2009 is upon us. It's time for some reflection. And some prayer.
"Seven years ago, I started the simple discipline of picking a one-word theme for the upcoming year. That is right — one word. Not a phrase, not a statement, just a single word. And to this point, it has been nothing short of life-changing."
That's a quote from Dan Britton, senior vice president of ministry advancement with Fellowship of Christian Athletes. And I can vouch for what he said.
I've been part of the annual one word posse for a few years, although I don't know Dan, and have been amazed by how the Lord has used it in my life.
I surrendered my life to Christ in 2005, and the following year was all about obedience. That was my one word. Take ownership of the commitment I made. Surrender self. Be joyfully obedient and faithful to God's will and Word. It was, and has been, positively liberating.
2006 was the year I met my birth father and his family — my family — for the first time. So, naturally, 2007 was about relationships. Not just with my birth father, but with Jesus as well — an ever-deepening relationship.
And relationships don't occur in a vacuum, so as those relationships developed all my other relationships, at all levels, were changed. They are still being affected.
Picking a word for 2008 wasn't a slam dunk like previous years. Lots of words came to mind, but they all seemed wrong. I prayed for a month and never felt like God helped me out. I felt like I just "picked" a word, instead of just "knowing" my word — just knowing the "rightness" of it.
Ultimately, I chose reconciliation because it speaks of harmony, compatibility, restoration, agreement and consistency — all things that are necessary in successful relationships. And, I have been uh-MAZED at how this word has affected me this year.
It turns out that according to Strengthsfinder 2.0 (a really cool book I highly recommend), my number one strength is . . . harmony.
What's significant about this is that I wrote the phrase "it speaks of harmony, compatibility, restoration, agreement and consistency" — with the words in that order— last December. I took the Strengthsfinder 2.0 test in June.
In hindsight, I could add another word to that list: balance. As in balancing, or reconciling, the competing demands inherent throughout life and in love.
Another blessing of this practice is that these words build upon one another, allowing me to better see, feel and experience Jesus in my life well beyond the year the one word "applies" to.
For example, 2007 was about relationships. It was the year I started working at Compassion. I left my previous company after working there for 10 years — changing a relationship — and began working here. Now I'm in a position where I'm responsible for helping you feel more connected with your sponsored child, with our ministry and with each other. More relationships.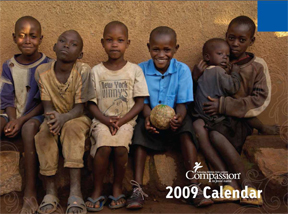 Picking one word is about picking one thing to focus on during the upcoming year. It's not a New Year's resolution. It's a challenge to surrender control of our goals and ourselves and let the Lord lead.
If you get a chance, read all of Dan's document. But don't read it when you're in a hurry. Read it when you have time to digest it. Then come back here and let me know what word God put on your heart for 2009.
On January 9, I'll randomly pick five people to receive a free copy of Compassion's 2009 calendar.
---
Oh yeah! My one word for 2009 is growth. Ugh! It sounds painful.