Carlo is 19 years old and he just lost his sponsor — again.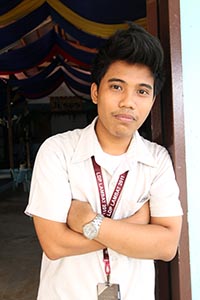 "I just learned that my sponsor cancelled, but I am told that I'm getting a new one."
Only two years from completing the Leadership Development Program*, Carlo has gotten used to not having a regular sponsor.
He had three different sponsors in the Child Sponsorship Program and welcomed a new one when he transitioned to the Leadership Development Program.
A number of sponsored children would be discouraged to lose a sponsor several times. Losing old relationships and building new ones through letter writing is not an easy task for a child.
"As a little boy, I was one of the quiet ones at the student center, but I confess that I didn't really enjoy writing letters, especially when I knew that I wouldn't get any replies."
But despite the constant change in the name of sponsor he would be praying for and writing to, Carlo did well and went on to become a Leadership Development Program student. He has always been an overachiever.
His parents knew right away that he was meant for greatness since he was born with two healthy legs. Both Carlo's mother and father have polio. Carlo's father, Peter, shares,
"I am just thankful that none of my six children have polio. Carlo is the middle child and the youngest of my boys."
Now older, Peter has retired from work as clerk at the local government office.
Help Families Affected BY COVID-19
Families in poverty have no safety net in times of crisis. Help provide food, medical care and support during this pandemic.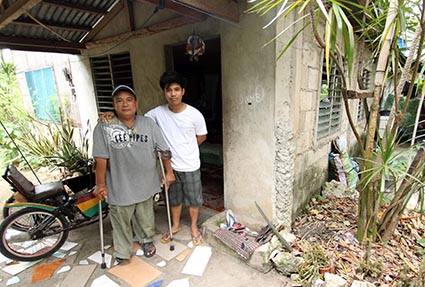 "As I grew older, my body got weaker and suffered from more back pains. Maybe it's from the years of walking on crutches."
Corazon, Carlo's mother, does not rely on crutches but walks with a limp. Her left leg is smaller than the right. She remains very active in organizing community events for the local government where she offers her services as a volunteer.
She heads the local women's organization, as well as the people with disabilities organization that she herself established. She recently led a sporting event that was participated in by a number of disabled persons coming from different parts of Cebu City, Philippines.
With overachieving parents, Carlo felt the pressure to excel growing up. He studied hard and got good grades, except in math. In his second year of high school, he was challenged by one of his teachers to face his fears and pursue the one subject where he did not excel, and that's exactly what Carlo did.
"I studied math so hard until I became one of the top math students in high school. Since then, I found greater joy in my studies."
He was admitted into the Leadership Development Program and chose to take engineering as his course of study. Today, he is a fourth year student in electronics and communication engineering at the University of San Carlos in Cebu City. This school consistently ranks as the top university in Cebu.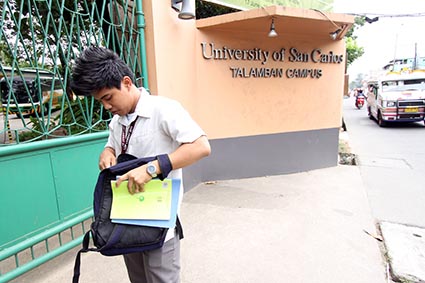 "But the reason why I chose electronics and communication engineering is not because of my love for math but because of my love for music. As a communications engineer, I would get to work on amplifiers, music-related programs, and other exciting multimedia technology.

"I dream of someday working in a huge office and of being in charge of people, gadgets and technology."
Despite studying to become an engineer, Carlo has not forgotten his first passion in life:
"…to teach people and help them succeed in life. When I look back at what I've written in 'My Plan for Tomorrow' while I was still in the Child Sponsorship Program, I said I wanted to be a pastor someday so that I can teach and lead people."
Although he is not a pastor today and did not decide to pursue theology, Carlo is very much involved in the work of the church. Apart from being a youth representative at the church board, he is the youth president, a member of the praise and worship team, and one of the young speakers at church.
He laughed when he realized,
"I am very busy organizing people and events just like my mother."
When asked whether he considers himself a leader or not, Carlo told us,
"Not yet. Although I am handling people and events at church, I still have a lot to learn and a lot of growing to do. I want to see lives changing, and that means I still need to change many things in my life."
When Carlo's recent Leadership Development Program sponsor cancelled, he realized an important lesson in life.
"When I look back, I can see God's faithfulness. Despite not having a regular sponsor through the years, God had sustained me and even let me join the Leadership Development Program.

"Now that I am about to get a new sponsor, I know that it is God who is supporting me all the way. I am encouraged to not quit."
*This content honors our historical Leadership Development Program. To learn more about our current youth development opportunities, click here.