The church was packed with 200 children and their parents, celebrating the pre-Christmas program with the Compassion child cevelopment center. When the host announced the opening of the program, the room burst with clapping.
Laboni was there with her sister Sraboni. Everything around Laboni was entirely new for her. She belongs to a Christian family, but in their lives Christmas is just like every other regular day. There has been nothing very special about Christmas except going to church in the morning.
But after Laboni and her sister got registered at the child development center, everything around her has been changing in a positive way. The meaning of Christmas has also changed.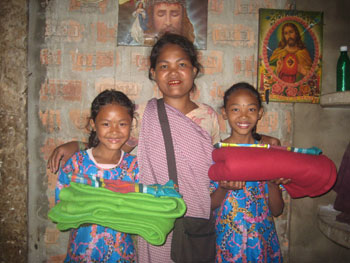 Laboni looked at the ceiling of the room, wonderfully decorated with colored paper and balloons. She never saw such decorations at their village on top of a small hill. There also was a well-decorated Christmas tree on the front stage.
Under the tree there were several packets wrapped in bright paper that were drawing her attention. Everything around her was a surprise. She comes to the student center every day and has her classes and meal together with her friends. They have lots of fun each day, but today was very different than the other activity days.
A week ago, Laboni heard from her development center teacher that all of them would receive gifts at the pre-Christmas program. The day before the pre-Christmas program, each of the children of the Compassion student center including Laboni and her friends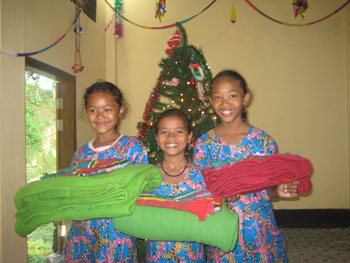 received a new dress and a pair of new sandals as Christmas gifts.
These were the first gifts Laboni ever received in her eight years of life. She belongs to a village that is predominantly Hindu where there is no culture of exchanging gifts. Laboni has eight other brothers and sisters, and their parents never gave them any gifts. She was amazed by the generosity of the Compassion student center.
She returned home with her elder sister Sraboni who also received the Christmas gifts. Both the sisters were panting as they climbed the hill, and cried out, "Mother! Mother! Come out and see what the Compassion student center has given to us!"
They wanted to show their presents to their mom in the daylight as they don't have electricity in their house. Their mother came out quickly; she thought that one of her daughters was hurt. Because her daughters are very gentle and quiet, they never make much noise without emergency.
But she was surprised, seeing her daughters laughing and holding something. Laboni and Sraboni showed their new dresses and sandals to their mother. Laboni said, "Mother! Our teacher invited you at the pre-Christmas program tomorrow."
Their mother wondered at the generosity of Compassion. That evening Laboni and Sraboni visited all the houses at the neighborhood and showed their gifts to everyone.
Laboni wore her new dress and sandals at the pre-Christmas program. Before the program had started she noticed that many new blankets were arranged at the side of the stage. She was wondering about those colorful blankets.
But her thoughts got interrupted as the host announced her name to come forward to cut the Christmas cake with a few other children. A big Christmas cake was brought in front of them, another new experience for Laboni, who had never seen a pastry cake before.
She tasted some ordinary homemade cakes before but it was nothing like this. The cake was nicely decorated with candles. Laboni and the children blew the candles out and they cut the cake with the Compassion representative and pastor of the church.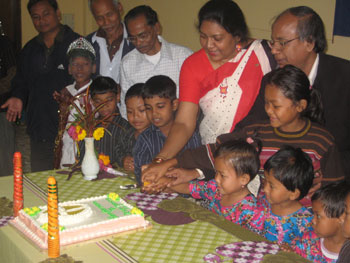 Laboni got back to her place where she was sitting. She was getting happier proportionately with the time. Laboni and Sraboni enjoyed the cultural program by the children. After the cultural show, it was the time for distributing the other gifts among the children.
Sraboni and Laboni were busy in talking to each other, when the announcer called Laboni's name to receive her Christmas gift. Laboni was surprised as she thought that her dress and sandals were her Christmas gifts.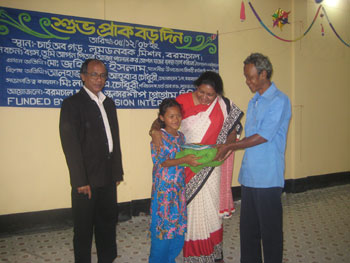 She never expect more for this Christmas. She got on the stage and received a green blanket and a nice towel. She couldn't believe her luck. Her elder sister Sraboni also got the same gifts. Her mother was also among the crowds, and was amazed by the love of Compassion student center for her daughters.
After the gift distribution, there came the thanksgiving part. The child development center manager said to the audience,
"Last year we gave sweaters and other accessories to the children as Christmas gifts. This year we are giving each of the children a new dress, sandals, towels and blankets. These blankets will keep them warm at night during this cold season."
Then the Compassion representative told the audience that all these gifts for the children were from the beloved sponsors of Compassion who saved money for these kids. The whole audience stood up and gave a big hand to all the sponsors for their heavenly love.
Then the children prayed together for all the sponsors of Compassion. Laboni was among them, praying for the sponsors. After the program was over, it was time for Laboni and Sraboni to get back home with their mother.
They usually walk home, but that day their mother hired two rickshaws as the blankets were heavy.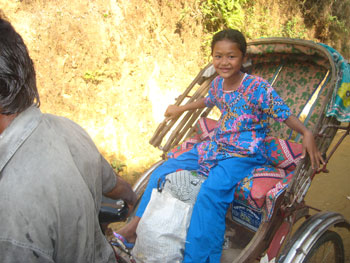 They returned home and Laboni went away immediately to speak with her friends. Her mother said,
"This Compassion center helped us by providing rice and lentils during the food crisis period. They are taking care of both of my daughter's studies. Now they are giving them these expensive gifts. I couldn't wish more for my daughters.

You couldn't realize how useful these blankets are for our family. It is very cold here in December. We are ten people in this house, at night we have to share just two warm sheets for protecting us from cold. These blankets will easily cover Laboni and Sraboni and their two elder sisters at night.

They also gave my children two new dresses and sandals. This will be the first time they will wear new clothes on Christmas day. Though I couldn't afford my elder children new dresses but they are also happy that, at least their youngest sisters are having something new. I consider myself very lucky because we have a Compassion student center near our village."
Laboni returned home with all her friends. She showed them all her gifts. She said to me,
"Now we will sleep well at night. I will take my elder sister with me under my blanket and Sraboni will take our other sister. This blanket is so soft Please say thanks to our sponsors who send these gifts for me and Sraboni. I am very happy; this Christmas is the best Christmas of my life. I will wear my new blue dress at the Christmas service. I asked my mother to buy me pink earrings for this dress."
The eight year old girl was sparkling with joy.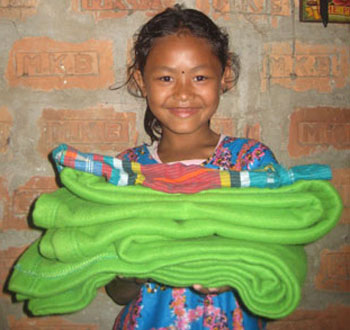 Most of these children (especially the children who got registered less than a year ago) don't understand the meaning of gifts as they never received any gift from anybody. The Christmas gifts from you, the sponsors, are teaching the children the love of God.
By giving the joy to these children you are giving presents to the true KING, our Lord Jesus.