We started early today. I was so tired that I lay my head down in the bus for the bumpy hour and a half ride to Batey Aleman. Normally, trying to catch a little extra sleep on a bus seems logical. Though my head kept hitting the metal walls of the bus with every bump, I was not going to move from my spot of slumber.
When we shook off the morning fatigue and made it to the field, I felt justified … the children were slowly showing up, rubbing the sleep from their eyes. I am not sure much else besides a clinic by Albert Pujols would have pulled them out of bed at that hour.
I have to say, it has been well worth it for everyone. Albert won the Gold Glove yesterday. The same day he coached a clinic to poor children living in the batey, he won one of baseball's prized awards. However, he didn't even mention it. In fact, the morning started out not with stretches and not with news crews.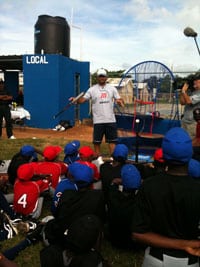 The day began with the children huddled around Albert as he told them the importance of having Christ in their lives – about the things that matter most in life.
"I grew up poor, just like you … no matter how successful you may become in baseball or in life, you can never forget where you came from. Never be ashamed of being poor; never forget that Batey Aleman is your home. You will always have a responsibility to your God, your family and your home."
His depth of care for the kids is obvious. He is passionate that they leave the mindset of poverty behind them. He spends a lot of time with them and is very kind but assertive when it comes to coaching them on fundamentals. Any observer can see his love for the kids as he corrects them, makes them do it again and refers to them as "muchachos."
When we left the field, the children returned to the child development center where they waited for lunch. Of course, that's the time I started to entertain! I had a great discussion with the kids, who range in age from 8-16. I asked them why we started this league. Of course, they've been told that many times, but I thought I'd see what their response was.
Many responded with something about God, the Bible, respect, good behavior and one even said, "to teach us to catch." I summarized it by saying that we established it to teach them to be good Christian leaders in their homes, community and country.
Help Families Affected BY COVID-19
Families in poverty have no safety net in times of crisis. Help provide food, medical care and support during this pandemic.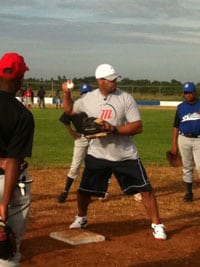 I added one more thing to the discussion before we engaged in some fun group chatter about America. I said that I wanted them to make sure that they respect women – that they do not mistreat, hit or abuse women. My translator said they were shocked by that statement.
That's all I needed to hear, so I continued talking on that subject. It's so obvious to see that the culture within this community, as well as many poor areas, tend to have little respect for women.
I think my talk with them worked (at least I hope it did). One 15-year-old young man raised his hand to talk. "I speak for everyone here when I say we love when you come here. We love you being here."
I gave him a huge hug and went to every table and took pictures with them. We were laughing, goofing off and really bonding. I even showed them pictures of Colorado snow!
Throughout the day, Adrian ran to me, hugged me and smiled at me. He posed for pictures and really became more outgoing. It was a drastic difference from the little boy I have visited twice before. So, when it came time to leave the batey after a long and very tiring day, I was sad but hopeful. He gave me a kiss, we exchanged hugs and I love yous and I left on the bumpy bus. I already miss the community. I miss the people. I want them to thrive.
My mom always told me to leave things better than I found them. Mom, I just did. And so did the kids. They left me way better than the way they found me.