The 2010 earthquake in Haiti caused the death of 62 sponsored children, injured 961 sponsored children, significantly damaged 69 partner churches and damaged or destroyed nearly 20,000 homes of our program beneficiaries.
After this earthquake, one of our biggest challenges was to design a short-term strategy to address the urgent needs for children to resume school activities in a country where only slightly more than half of all school-aged children attend primary school.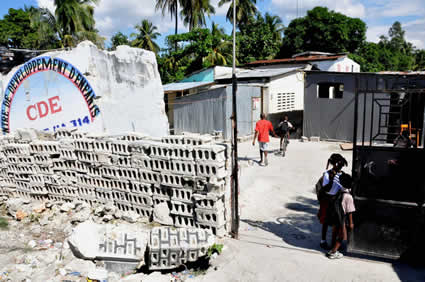 In Port-au-Prince, 80 percent of schools were destroyed or partially damaged — a hopeless situation for a country with an already-poor educational infrastructure.
Among Haiti's child development centers, approximately 60 schools were severely damaged or completely destroyed. Emmanuel, director of the Dufort Child Development Center in Leogane, where the epicenter of the earthquake was located, shares,
"There was no hope when we saw everything collapsed in the earthquake, especially the school building. The Haitian government was overwhelmed by the extent of the damage and could not even provide for itself. We did not know what to do with the children whose education is the only hope."
School education is one of the top priorities among Haitian parents and children. Parents will do all they can to send their children to school because they believe it is the best way to ensure that their children will have hope and a future.
All 68,000 children registered in Haiti's child sponsorship program go to school.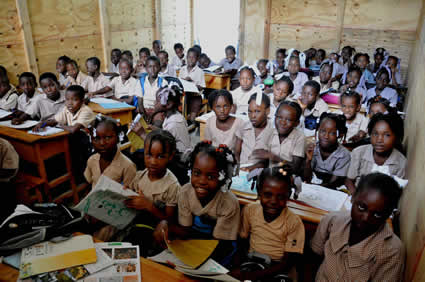 About three months following the earthquake, we launched strategies to build temporary shelters for our church partners. As a short-term solution, we provided canopies that could be used as meeting spaces to protect children and staff from bad weather.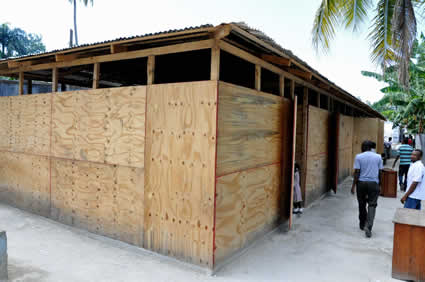 We also provided steel containers to house offices and help protect computers, files, supplies, furniture, and other important items.
The most-affected church partners received financial assistance to remove rubble and build temporary shelters. Through a strategy we called "Transitional School Building for Implementing Church Partners," our partnering churches were provided with basic construction materials such as wood, nails and corrugated-metal sheets in order to erect temporary school shelters enabling more than 15,000 children to return to school.
This transitional building process lasted one month, during which 409 classrooms were built for 60 child development centers. Guilbaud, Compassion's country director for Haiti, explains,
"It was our goal through this strategy to give, in a short span of time, a sense of normalcy to each child's life. And the Compassion age-group activities and school education were the best ways to keep the children busy after such a tragedy."
It was a relief to the church partners to be equipped with such facilities, and the children were excited to see the new construction. Children received school furniture to replace all that they had lost in the earthquake.
Others share their gratitude for the effort to get schools back in operation:
"Today we are back [and] operational and we are so proud to remain as an oasis in the desert for the community in order to continue to carry out child development activities." — Pastor Menard, Leogane Child Development Center
"We love everything you have done for us after the earthquake, but the most important was to allow us to go back to school. I thank you so much." — 11-year-old Chinica
"I did not feel well when I could not go to school after the earthquake. When I saw that the school collapsed I felt no hope until you came to provide the church with equipment to build temporary shelters for both the development center and the school. I enjoy my time at school now. And I am learning very well. I especially love the way the school is temporarily built. We know that if ever the ground shakes there is no way to be harmed by collapsed things." –10-year-old Marie
The Dufort Child Development Center has 344 children registered in the child sponsorship program and 450 pupils attend their primary school. While the center was completely devastated, no one was killed or injured there. One child from the Dufort center, 14-year-old Judelove, was in Port-au-Prince at the time of the earthquake and, sadly, died in the quake.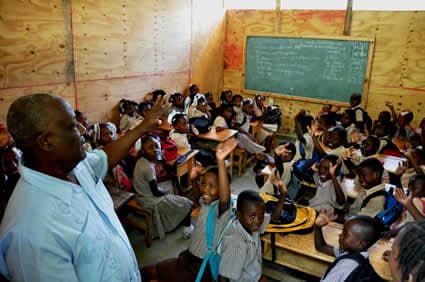 Pastor Wagnac is senior pastor and founder of the Wesleyan church partnering with the Dufort Child Development Center. He says,  
"We were concerned for the future of the church and the ministry here, but you have [proven] once more that the ministry of Compassion is a partner we can rely on even in the hardest time. You have provided assistance that is helping us to get back up today. All glory be to God!"
Center director Emmanuel adds,
"We are truly indebted to Compassion for this support that allows more than 400 children to go back to school. We realize that, even as a temporary shelter, we definitely have a better school building where children feel comfortable to learn with no fear."
The Transitional School Building strategy is completed and now our focus is on the long-term school rebuilding effort.
Forty-four earthquake-proof school buildings will be erected throughout the west, southeast and Nippes regions of Haiti, where the earthquake caused the greatest damage. At the one-year commemoration of the earthquake, our team placed the foundation stone in the yard of the Capitol Child Development Center, where a new school building will be erected.
Located in Port-au-Prince, the Capitol Development Center is part of the Wesleyan mission, one of our partners most affected by the earthquake with eight school and church buildings completely destroyed.
The 44 church partners in the earthquake-affected areas of Haiti have worked with a team of engineers to develop custom rebuilding plans that include structures, latrines and clean-water-source solutions. Long-term solutions also include ensuring that a water, sanitation and hygiene strategy is in place at each of the 44 centers that were destroyed or severely damaged by the quake.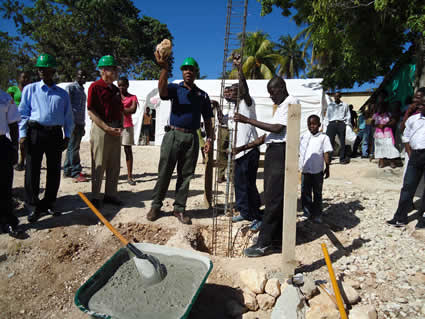 "The 44 earthquake-proof school buildings we aim to erect will benefit more than 20,000 children," said engineer Yves Osias, ministry reconstruction supervisor.
Construction work for the first school began at the Simonette Child Development Center.
"The length of time for the implementation of the overall reconstruction project is three years. Each school that will be equipped with 12 classrooms requires about seven months to be built. Therefore, to meet this deadline, many construction [projects] will be held simultaneously."
The classrooms will each accommodate approximately 45 children. In addition to the classrooms, each school will include: a cafeteria, a sanitary section, the school administration offices, and the child development center office.
Principal Joseph of the Papette Child Development Center underscores the importance of the reconstruction:
"There is no doubt that the performance of the children will be improved because of such new facilities and better learning environment. It's an activity that will enhance development in the communities as education is the key of success for children in poor families. And you have offered us this opportunity."