You know the kind of day. The e-mails keep coming. The phone keeps ringing. You have back-to-back meetings. The action items pile up. The hours in the day seem to get shorter.
Jesus knows how hard it is to keep up with the demands of your day. But He also knows the importance of rest.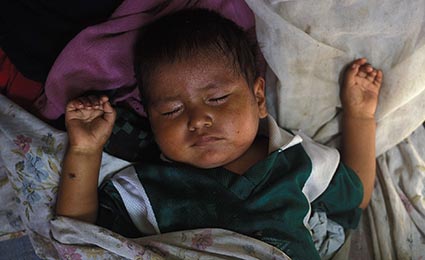 Despite a never-ending list of people to heal and crowds to teach, Jesus took time out to rest. Is your work more important than Jesus' work?
When was the last time you went a weekend without checking e-mail? Or even better, a week? Does even the thought of going a day without it make you anxious?
So often we are burdened by the never-ending inbox that we forget the one thing that is truly important, resting in Jesus.
Do you remember the story of Martha and Mary? Martha was the one constantly rushing around and worrying about how much she had to do for Jesus, while Mary simply sat at His feet and rested in His presence.
In today's rushed and frantically paced society, we would compliment Martha on her work ethic and judge Mary for her laziness. But in Luke 10:41–42, Jesus said, "Martha, Martha, you are worried and upset about many things, but few things are needed—or indeed only one. Mary has chosen what is better, and it will not be taken away from her."
In the midst of your busy days, don't forget that there are times when we should simply rest in Jesus and allow Him to minister to us. The world says that to be valued we must constantly work hard, but God says something different.
Yes, we are to labor and to do God's work, but there is also an ordained time to rest. If Jesus made time for it, even with His heavy workload, shouldn't we?
"Come to me, all you who are weary and burdened, and I will give you rest." —Matthew 11:28, NIV
Prayer: Heavenly Father, give us wisdom and discipline to spend time resting in you. Give us discernment to know when our colleagues are tired and how to best serve each other in the midst of busy times. Help us rest in you.
---

ABOUT THE AUTHOR: Hayley White works as a Product Manager for Compassion Australia.
Read all the One in Spirit devotionals.