One hour away from Malacatán, San Marcos (365 kilometers from Guatemala City), there is a valley called Quetzalí. The highway to Quetzalí is surrounded by trees and mountains, and the weather is very hot. The view of the green and yellow blossoming trees makes the trip very pleasant and unique.
As I step out of my vehicle, the sun is shining bright and warm, but it's not as warm as the volunteers' welcome at the child development center I've arrived at. The volunteers greet me with a big, cold bowl of mixed fruit and a large glass of icy orange juice.
As I walk from classroom to classroom, smiling children greet me. I reach a steep staircase to the second floor and climb it. This floor is very small compared with the first, and it has only one classroom. A fast, rhythmic sound comes from one small room — thump, thump, thump, thump, thump. It's a tailoring workshop where children between 11 and 16 years of age operate around 25 high-speed sewing and stitching machines.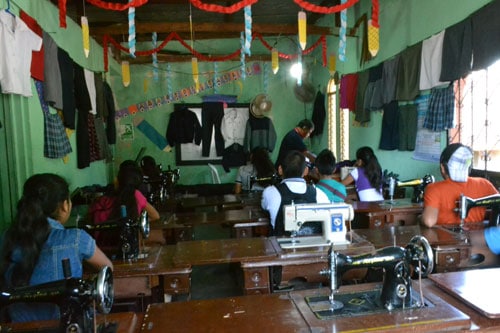 The second floor is not as cool as the first because it has a sheet metal roof that significantly warms the room. The rays of sunlight get through every space and hole in the old walls. But the children do not seem to care about the temperature. They are immersed in the sewing and stitching chores they have.
As I walk past each child at work, I notice that each one is very happy to be there. The scene is very colorful since all the clothes the children have made are hanging on the walls for everyone to see and appreciate the beauty.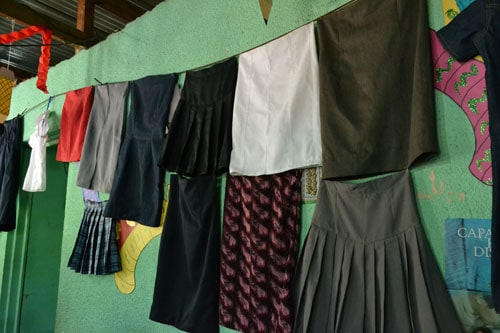 Then everybody focuses their attention at the front of the classroom, where the workshop teacher, Moisés Fuentes, stands. He is a good-natured man who takes his job very seriously. He is devoted to teaching the children how to manufacture clothing for their own use and for earning an income in order to be self-supporting.
As I look around, it is very clear that every student wears at least one piece of clothing that he or she has made, and the students feel pleased, too.
Help Families Affected BY COVID-19
Families in poverty have no safety net in times of crisis. Help provide food, medical care and support during this pandemic.
Tutor Moisés has been the workshop teacher for almost seven years. He works very hard and is very proactive, so the children line up to enroll in the workshop. Moisés has seen many young people who were part of the sewing workshop graduate from the child development center. Most of those students are now working for tailoring shops and institutes or on their own.
As Gelén Domingo, the center director, explains, Moisés' work has transcended paradigms in the center. Gelén remembers how Moisés even managed to convince boys attending the first workshop he taught to make women's clothing.
At first, the boys refused to make dresses and skirts because tailoring women's clothing is not considered a very masculine job. Nevertheless, the tutor was able to help his students understand the importance of tailoring all kinds of clothing in order to get a tailoring job once they finish their studies. He also encourages his students to pursue further training in tailoring and dressmaking in order to become professionals in these fields.
The child development center provides all the materials for the students to work with, including the sewing machines, threads, fabrics, felts, padding, thimbles, needles, measuring tapes, pins, scissors, buttons and many other supplies. Every piece of clothing a student manufactures belongs to him or her. The students frequently make clothes for themselves and their families, and they even make clothes to sell at the local markets.
Moisés' teaching method ensures speedy student progress. It can take too long to teach clothing design theory formally, so Moisés leads his students directly to the practicum of the sewing class, and students begin sewing immediately. They learn the theory as they practice.
After the Quetzalí center's success, other child development centers in the area have asked the tutor to give the same workshop at their facilities. Moisés opened classes in the communities of La Trinidad, Malacatán, Chayen and San Rafael Pie de la Cuesta.
When asked about his tailoring knowledge, teacher Moisés proudly explains that he learned this craft through family members, and now he feels inspired by Compassion's work to spread his knowledge to children. He feels he is able to empower a child to successfully provide for himself or herself, as well as for their families and communities, through tailoring and dressmaking.
In 2011 and 2012, two groups of Moisés' students (from Quetzalí, La Trinidad and Malacatán) worked together to manufacture sports uniforms and graduation clothing for other development centers in the area. The uniforms were sold for low prices to help the center's families, and the students who manufactured the clothes received a reward to help support their own families.
As María Feliciano, an advanced student of the workshop in Quetzalí, explains, the activity was very satisfying because it showed the students that every effort has its own compensation.
While the students work hard on their articles of clothing, paying attention to every detail they sew, Moisés dreams about the possibility that all the students from the surrounding workshops will work together as a manufacturing cluster. This idea stems from the opportunity to meet the local demand for summer clothing.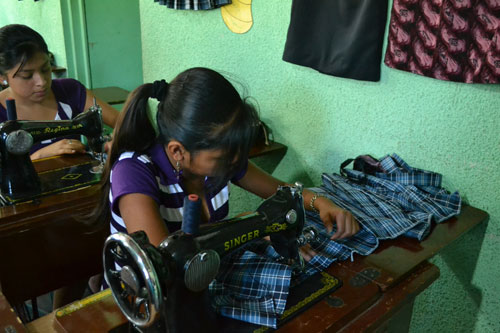 His biggest dream is that someday his students will teach other children and teenagers the same tailoring craft his parents taught him. He also hopes one of his former students will succeed him.