UPDATE: Since the publication of this post, letter-writing guidelines have changed and as a result you may not be able to send some of these items through Compassion's correspondence system. Before you send your letter, please review our letter-writing guidelines.
---
For the past two days, there has been nothing in my mailbox. This is a very strange occurrence since most days my mailbox seems to be filled with lots of junk mail. And with four sponsored children and eight correspondent children in our family, you can bet that we look forward to the days when a cream-colored envelope appears with a letter from one of our Compassion children who we consider to be part of our family.
Over the past year, on our Second Friday Letter Writing Club board on Pinterest, many letter writing ideas have been pinned on how to make wonderful paper items for our sponsored children that can be mailed. And quite a few of you are responsible for pinning some of these very creative paper projects and printables.
I always see questions from sponsors asking what is appropriate to send to their sponsored children. So this month, we want you to share with us what you are sending to your sponsored child.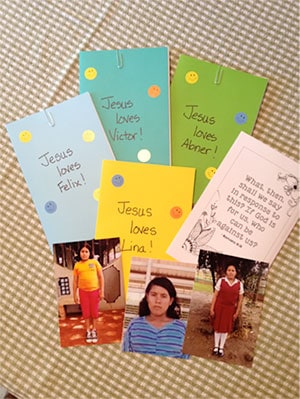 To start the letter writing ideas off, here is what I mailed to my sponsored children last month:
We have been sponsoring Lina for almost four years now, so I sent her copies of all the photos we have received of her over the years. I also sent her a printable scripture page and a simple note, reminding her that God loves her and is always looking out for her.
Are you ready to join in with us this month? We sure hope you are! Head to our Second Friday Letter Writing Club board on Pinterest to join the club and to start pinning. We want you to:
Upload a photo of what you mail to your sponsored child this month and give a short explanation.
Use the hashtag #compassionletter in the description of your pin.
Share your photo with #compassionletter on Facebook, Twitter, Instagram or Google+. Sharing your creativity can inspire other sponsors like you to continue using their imaginations to foster their relationships with their correspondent children.
We look forward to seeing all of the creative ways you are sending love to your sponsored child this month!