My wife and I went to her 15-week checkup for the baby she was carrying, and the doctor could not find a heartbeat. Our baby was dead. This is the third time that this has happened to us, which has only served to intensify the pain, not minimize it.
Death. It's such a difficult thing to try to talk about. I'm often looking for a way to "release" people so they aren't just standing there not knowing what to say.
So, on my first day back at work, a co-worker asked me how my day was going. I told him, "Not very good." I thought I'd leave it at that. I was a little surprised when he stopped to ask why, and more surprised that after I told him, he simply asked if he could pray — right then, right there at my desk.
We are Compassion. But are we compassion? We desire to live this life of connection with children in poverty, but are we connected in our places of work? As a family? As one?
Compassion is defined as "a deep awareness of and sympathy for another's suffering." How is that being lived out in our offices?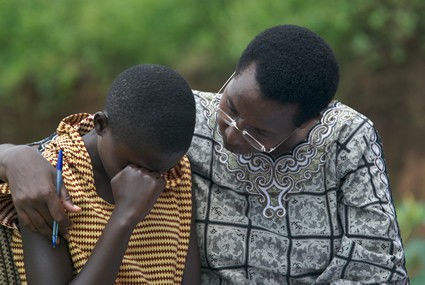 My friend showed me compassion that day. He didn't try to fix what was wrong. He didn't try to avoid it.
He didn't try to make me look on the bright side. He didn't weigh my pain against others' pain. He simply entered into mine and led me to the throne of grace.
There will be times when we need to be led; there will be times when we need to lead. There will be times when we need to be carried, and times when we need to carry. Are we willing? Entering into the suffering of each other will be what truly forges oneness among us.
We are confident that as you share in our sufferings, you will also share in the comfort God gives us. — 2 Corinthians 1:7, NLT
Prayer Father, you sent your Son to enter into our suffering. In turn, you have called us to enter into His. Give us courage and willingness to love you and to love each other that much.
---

ABOUT THE AUTHOR: Brandon Hackett is a Complementary Interventions Specialist at the Global Ministry Center in Colorado Springs, CO.
Read all the One in Spirit devotionals