If compassion is about anything, it is about choosing solidarity with those in need. In a literal sense it means "to suffer with."
Jesus took this concept to the extreme when He came to earth as a helpless child, not for a visit, but for life. He chose to come to us, to be with us, to share joy with us, to share life with us and to suffer with us. He came to earth with no exit strategy save the one we all must face which is to walk through death itself.
And He chose a particularly brutal death at that.
Jesus came because He chose compassion, because eternal solidarity with us in heaven meant temporal solidarity with us in life and for us in death. There is obviously much more to the story than these brief paragraphs have to offer, but the point is simply that Jesus Christ took the concept of compassion and embodied it.
I am extremely privileged to work for this organization called Compassion. It is wonderfully gratifying to know that our work helps over 5,000 local churches in poor communities all over the world share God's love in very real ways that change both the lives and eternities of the more than one million precious little ones who they serve.
But it is also a really sobering job as well.
I have the honor of meeting people who are facing great personal challenges and hardships in the midst of bringing such hope and joy to the children we exist to serve. These are people who work in our field offices and in the churches that we partner with.
Meeting them makes their challenges and hardship very real to me.
And this is important, because it suddenly becomes personal when I see reports of natural disasters, civil unrest and family tragedies that affect the countries I've been to and the people I've met.
When I read about violence in Central America, I think about meeting a volunteer at a church in Guatemala several years ago.
She was with her son, a little boy who didn't say a single word the whole time I was visiting the child development center, but who received a hug from my friend and coworker as if it was the single most important gift he had ever received. And maybe it was.
As we talked with his mom, we learned that her husband was a police officer who had gone missing three months before and had not been heard from since.
Through her brokenness she continued to come to the child development center to share the love of God with the children of her community. To this day when I think of her and her son, I feel a rush of gratitude and respect and…sorrow.
When I hear about flooding in the Philippines, I think about a young man I met last year who had just graduated from our child sponsorship program and was about to start his first job in IT.
I think about how I visited his home, underneath the city along a drainage canal. I was told by our staff there that when the typhoons come, these canals flood, and the families who live there lose everything they have.
And when I read in a letter from my sponsored child in Thailand last year that her grandmother died, it's personal because I met this woman and she welcomed me to her home with a gracious spirit and showed me her vegetable garden in the back of the house where she grew food to help sustain the family. And now she is gone.
I think about all of these things and I try to pray.
I try to pray with passion and hope that it makes a difference. I hope that my prayers might have some measure of true compassion because unlike Jesus, I go to the field for a little while and then I get on an airplane and come back home again.
When I am home I sometimes feel so very far away. And sometimes prayer seems like such a small, distant and feeble thing.
But not today.
Not today when the hills above my city are covered in smoke and flame. Not today when people I work with face evacuations and threats to their homes as an uncontained fire rages close by.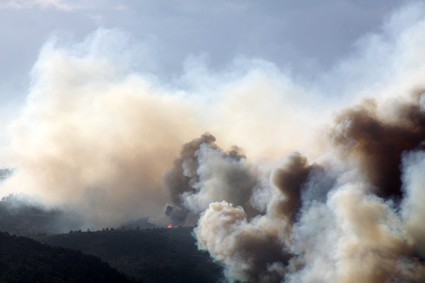 I recently asked for prayer through a social network and the first responses I received were from a friend and colleague in Asia and a friend and colleague in Africa.
At that moment, the solidarity of faraway friends through prayer helped to ease my fears and comfort my soul.
Because I know they care about me and the people of Colorado Springs, but more importantly I know they love Jesus and that He loves them. And no matter what else happens He has listened to them and heard their prayers.
So today, today prayer doesn't seem small or distant or feeble at all.
Today prayer feels like life and hope and it all feels so desperately real.
Today prayer feels like…solidarity.
---
*Waldo Canyon fire photo courtesy of Trusty Photography.