UPDATED: Jan. 22, 2010 – Listen to Tim interviewed by Rodney Olsen on Australia's 98.5 Sonshine FM.
---
You can see the photos and video footage on your television or computer, but they don't do the devastation in Haiti justice.
Building after building has collapsed. I've seen dozens of multistory buildings that have collapsed into a stack of pancaked floors. Looking at the sheer tonnage of cement, I'm amazed anyone survived.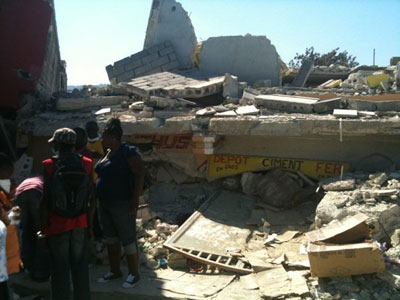 Hospitals, schools, churches and businesses all flattened. As if this country didn't already struggle to provide those services to those who need it. That is the great irony right now. The number of people who need medical attention has increased dramatically as the result of this disaster, but the number of medical clinics and hospitals decreased. It seems so unjust.
Communication and transportation are terrible. I'd love to be able to show you some of the videos that I've shot, but I can't get a strong enough Internet connection to last long enough to upload. At this point, my best connection provides 8kb per second. Terribly slow. And it lasts only a few minutes at a time.
This morning, I witnessed a relief truck get overtaken by a crowd of people in the streets. The people climbed the big rig by the dozens, forcing open the back doors and tossing out bags of rice … all while the truck was driving.
Help Families Affected BY COVID-19
Families in poverty have no safety net in times of crisis. Help provide food, medical care and support during this pandemic.
People are desperate for food. All over town, there are makeshift signs (mostly sheets with painted words on them) saying, "We Need Help" or "Please — We Need Food and Water."
At the border of the Dominican Republic and Haiti, I saw a couple of relief supply trucks that had been turned into makeshift storefronts. People were trying to sell the food, water and clothing inside. Another example of how important it is for you to make sure you partner with an organization that has established distribution channels.
Many organizations can get stuff here, but don't know how to distribute it. Parking a truck on the side of the road can cause mayhem.
We don't know exactly how many of our kids are affected. Getting to them all is terribly difficult. Many families fled when the quake hit. Many are sleeping on the streets. Rounding them up is tough.
Perhaps one of the most inspiring things I've seen is our Haiti staff here. Keep in mind, many of them lost everything in the quake. They lost homes, possessions and sadly, some of them lost loved ones. Yet here they are, working at our makeshift camp every day, trying to help others. Serving in the midst of their pain. Amazing!
Please continue to pray for them. They are heroes of the faith.
Compassion partners with established local churches in Haiti. We have for more than 40 years. They know us. We know them. And shouldn't the church be the distribution channel for relief in times of hurt anyway?
You are providing for tons of supplies to make it into Haiti. Our first planeload is expected to arrive Friday in the Dominican Republic. It will be transported into Haiti on Saturday. We'll be able to provide two weeks' worth of basic necessities to more than 77,000 people.
Two weeks later, we'll be able to give them another two-week kit. It's a start. But it's a drop in the bucket of need. We need more. Help our relief efforts by making a donation to our Disaster Relief Fund.
Thankfully, Compassion has a long-term solution to poverty, too. It's our program. Child Survival, Child Sponsorship, Leadership Development. Holistic Child Development. That's how you change a country like Haiti, from the inside out. Because, let's be honest, as much as this is a natural disaster, its reach is far more exponential as a result of the dire poverty here.
Haitians had little to begin with. This quake took that little away. It's time to start over. And starting over begins with hope. And thankfully, that's something Compassion specializes in.