Since the Healing Waters International water project opened at the Comunidad Cristiana El Santuario Iglesia de Dios Pentecostal Church in 2006, church members have had more opportunities to decide on matters that can benefit the ministry and the community of Barrio Mexico in southern coastal town of San Pedro de Macorís in Dominican Republic.
The church's leadership calls for periodic members' meetings where all ministry managers update the assembly on their ministry. Since all the ministries overlap in some way, these reports help the church make the best decisions.
The ministries include Compassion's Child Sponsorship Program, the Healing Waters International water project, a school and a community holistic vocational center.
These church meetings have become a forum at which the community, represented by the believers, can discuss the best ways to manage resources.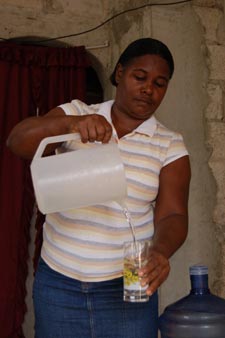 Milqueya is a mother of eight and grandma of seven. She and her husband still live with 11 children and grandchildren at home. Milqueya and her large family enjoy the benefits of the decisions she's been helping her church make as a voting member. One important decision was the incorporation of the Healing Waters International water project.
In the past, even the least harmful water source wasn't safe enough for Milqueya. She bought water from the trucks that drove past her home.
Miqueya paid only RD$20 for a 5-gallon water bottle, avoiding the RD$35 price at local stores. But the truck-bought water was making her and her family sick.
"The water caused us stomach diseases. But after we began to drink the water from the church, we are always healthy and we don't have any stomach problems."
After the Healing Waters International project began, the community's health has improved. (more…)
Continue Reading ›
Sitting under a tent away from the hot sun, talking, smiling and enjoying a plate of rice and chicken is a group of teachers from Fey Esperanza Child Development Center before the beginning of another afternoon with the children.
The teachers are having a good time with each other, but after they finish their lunch, each of them go to their classrooms with excitement to prepare for the afternoon classes.
Seventeen people work at the development center. Most of them have been serving the children since the center started two years ago, and more are being added as more poor children are registered.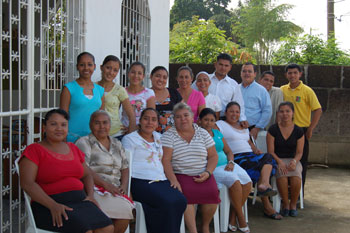 Each of these workers were carefully and prayerfully chosen by the pastor. Before selecting staff, he wrote a list of names to present to the church committee, which considered each one. The committee considers each person's vision and commitment to working with poor children.
Each worker must have at least one year of high school and a good relationship with God because it is in their hands that the life of the children will rest while working at the development center.
These workers are ideally church members, but if the partner church is too small, then applicants from neighboring churches or from the same denomination can work at the student center. Each person is interviewed by the pastor and committee about their willingness to work at the center.
Child development workers are volunteers who receive an "offering" every month, not a salary. They have limited job opportunities and are at the center because they love God and love to work with poor children. (more…)
Continue Reading ›
I knew that she was a sweet little girl, but it wasn't her face that told me so. Her face had a hard look, as if smiling was an indulgence; something reserved for close friends and family only. But the hardness in her face wasn't a frown. It wasn't unhappiness I saw there. It might have simply been shyness and uncertainty.
After all, who was I? Some American who swooped in to pass around the good feelings before returning to vast shelters of wood, composite and stone? Someone who wanted to "do little good" and make himself feel better before returning to his consumer Christianity?
It's possible all of this was on her face and in her four-year-old mind. Children are, after all, very perceptive.
But maybe I was projecting. Maybe my mind was simply painting my own guilt on her stoic face.
I stood in the courtyard playground of that child development center in Bonao, hours outside of Santo Domingo and less than a day after arriving in the Dominican Republic (DR), and the sun's heat felt more like that given off by an interrogation lamp than life-giving warmth.
Why was I really here anyway?
I came to the DR to lead a men's retreat with three others. Two other Compassion employees and one elder of a local church. Our host was an employee of the DR country office. The next day, we were to begin speaking at his church and leading what we hoped would be a revival for the men of Santo Domingo.
So I was there to speak. To challenge, encourage and uplift.
But even more, I discovered that I was there to listen. And to be challenged, encouraged and uplifted myself.
Our first day in the country was a Compassion day. A chance for three of us to see, for the first time, the results of the work of thousands around the globe working to further the cause of Christ.
It was a holiday in the Dominican Republic, so we didn't receive the 300-child welcoming party I'd heard is often customary when visiting a Compassion child development center.
Instead, we were greeted by a handful of children. Several boys and, as I remember it, one little girl with a hard face, but who radiated sweetness nonetheless.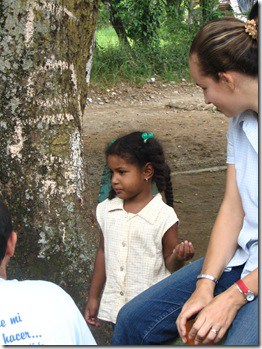 But from where? I wonder now what drew me so strongly to this sweet child, only present that day because her mother, Rosa, is their volunteer cook.
Perhaps it was the English.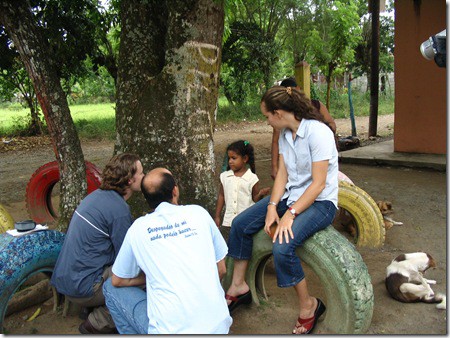 Shortly after meeting Ana Maria, I knelt down to speak with her, with our friend and translator, David, at my right.
"Hello Ana. My name is Brandon."
And before David could translate, she spoke.
"Hello," she said, in English. There was a softness in her voice, one that smoothed her features and melted my heart.
"God bless you, Ana," I said.
"God bless you," she replied, again without waiting for David to translate. The center facilitator, who was sitting nearby, smiled.
"She wants to learn English."
"That's wonderful." I looked back at Ana Maria and smiled at her.
She didn't smile back, but the hardness I had seen at first was gone. Better yet, the image of hardness I projected on her face at the first was replaced with hope.
Cautious hope. And a desire to smile, but maybe not just yet.
Ana didn't have a sponsor before that day. But by the time I left, she did.
I wonder sometimes if she remembers meeting me. If she recalls meeting an American man who would return home in days and slide unwittingly back into Western and indulgent living, but who now had a lifeline to need, reality and truth. A lifeline that somehow sustains both the giver and receiver.
I hope she does remember. Two years from now, my wife and I plan to return to the DR to visit Ana Maria and her mother. My wife will meet them for the first time, and I will see them once again. We'll hug, pray, play and speak English and Spanish to each other.
And maybe, just maybe, we'll smile.
---
Brandon Satrom is the Enterprise Applications Architect for Compassion. He works in IT evaluating both new and emerging technologies and helping Compassion IT make the best use of existing technologies.
Continue Reading ›