When Luis Angel was 7 years old, he received his first letter from a loving couple who had begun sponsoring him. Thrilled to know someone was praying for him, Luis embraced each word from every letter he got until his departure to heaven.
Continue Reading ›
Because Kaitlin was a child fighting a terminal disease, she was granted one special wish. But Kaitlin was no ordinary young woman and her one wish will allow the wishes of children around the world to come true for generations.
Continue Reading ›

After a two-hour bus trip through chaotic traffic, I arrive at a child development center located in the northwestern part of Lima City.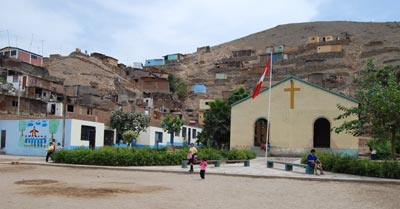 The center is in a quiet place far from the noisy avenues, although the homes of squatters surround the church mission. The houses are built with precarious materials that show the poverty this community has to face. The mission is on a large property with buildings built long ago.
As I walk through the church's wide, dusty dirt-floor patio, the center director greets me. With a wide smile and wearing blue jeans and a black hat, she looks ready to film the perfect Western TV series. Her name is Miss Pino and she is a graduate psychologist who has also studied at a Bible institute and has specialized in child advocacy and child evangelism. She has been appointed by her mission authorities as center director for Semillero de Campeones Student Center, which started in June 2008.
In this position, Miss Pino has to deal with many things she never thought she would, such as trying to keep the center open. The rising costs of household items – cooking oil, chicken, milk, etc. – has led to a 20 percent increase in food costs for all student centers in Peru.
For Semillero de Campeones, this has made it difficult to manage a program with 166 young children to feed, from which 40 percent do not have a sponsor yet.
Because of the rise in prices, many student centers have had to stop some activities such as camps, retreats and extracurricular activities. The budgets for each center are simply not enough.
Development centers with less than 160 registered children, such as Semillero de Campeones, have been more affected as they have fewer resources to face the crisis. Therefore, in order to continue serving the vital meals to the children, Semillero de Campeones received a special assistance through our Complementary Interventions Program (CIV).
Continue Reading ›