You asked your questions of Cesiah, field communication specialist in Mexico, and she answered. Take it away, Cesiah.
---
1. First of all, thank you so much for all you do for the precious children of Mexico! My question is, as you go through each day seeing a multitude of needs in these children's lives, what do you find yourself praying for most often? (Lindy)
Most of the time, I pray for their hearts. My main prayer is normally that they get to experience the love of Christ. I long for them to know how precious they are to God. I pray that they never give in to the idea of not being worthy or good enough to do anything they dream of.
2. How far do the students travel, on average, to get to the centers and how do they do so? (Walk, bus, etc.) (Beth Ingersoll)
Most of the children registered live very near the churches where they participate in the activities and where they are registered. It is very common for them to walk. As part of the program, Compassion Mexico considers children within 30 minutes walking distance.

In some of the child development centers, it is common to see a few children ride their bicycles to the center, but in those cases it is only a luxury some can afford.

There are other churches where the pastor's vehicle or the cars owned by the church membership serve to bring children to classes. Every time they drive by the community, children line up to jump in and ride to the church. Many times these are old cars on bumpy and dirt roads, but the fact of being able to ride with the teachers or sparing the hot sun is well worth the tightness.

Finally, there are centers where teachers and staff members split by areas, and they walk the streets around the center to bring children in. Families then trust their children to go with the staff members to church.

Either if children walk by themselves or in big groups or ride their bikes to the projects, they normally wear a special shirt from the project or even uniforms, so it is very nice to watch children come into the centers because they fill the streets with joyful laughter.
Continue Reading ›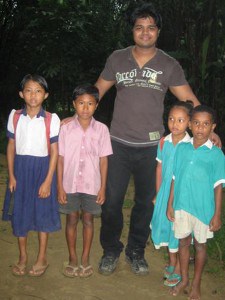 Remember Kamrul, the cycle van driver from Bangladesh you helped buy a cycle van for? Well, David Adhikary is the fine field communication specialist in Bangladesh who reported that story for us. That was one of his first assignments — he just started at Compassion Bangladesh in January. What a nice welcome you gave him!
Now it's your turn to ask David about his experiences as a Compassion employee, visiting precious sponsored children, and anything else you're wondering about Bangladesh.
I'll tell you a bit about him first. He just finished his electrical engineering degree in December of 2007 when he decided that he wanted to serve the Lord by working with Compassion's ministry. (An engineer and a writer — talented guy!) He loves English and Bengali literature and is a big sports fan too.
Remember when Chris went to Mexico? He got to meet Cesiah Magaña, who has been working with Compassion Mexico for seven years. She says the seven years have been wonderful — filled with blessings and challenges.
She currently works as the communication specialist, is married and has a precious 2 1/2-year-old son, Jair. She loves driving with her family to the towns around Mexico City, seeing their handicrafts and hearing their stories.
So it's time to ask your questions of Cesiah and David. I'll choose ten questions for each of them to answer.
Continue Reading ›