Have you ever wondered why livestock are in the catalog every year? How could something we associate with a petting zoo really help release children from poverty? We were hoping you would ask! These stories will show you how a goat, a chicken and a cow changed the lives of three families we serve.
Continue Reading ›
This Murgir Korma recipe is from Kevin Stout, who helped open our offices in Bangladesh and now serves as the ministry's Church Partnership Development Manager. His wife is Bengali, and this is her family's recipe for murgir korma, or sweet chicken curry with yogurt.
Continue Reading ›
The drought that affected the Maasai area in Tanzania was severe. Because of the drought, Nooltetan lost all of her cattle and was reduced to poverty.
Continue Reading ›
A new day begins in the city of Siguatepeque, Honduras, and with it a routine process caarried out by two girls at a child development center egg farm. They change the chickens' water and pick up the eggs.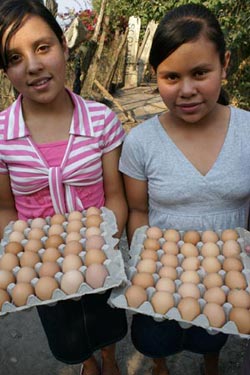 "Hey, here is another one," says Keila with enthusiasm while they search for more eggs and the chickens walk between their legs.
The center is in a fresh environment with lots of pine trees. The 140 chickens lay eggs to feed the 257 children at the Pentecostal Student Center.
One of the desired outcomes of our programs is the physical development of children, but the rise in food prices has worsened our church partners' ability to help the children grow healthy.
In Honduras, 70 percent of families in the rural areas live in extreme poverty, and in the past year, the cost of basic grains has doubled. The price of fertilizer has gone up 71 percent.
This egg farm is one of the ways Compassion Honduras is responding to the global food crisis, which has created great difficulty in the holistic development of the children.
The chicken project started as a dream of this student center in November 2008, and the dream came true through our Complementary Interventions program (CIV).
Continue Reading ›