While the East African nation of Kenya does not grab as many headlines as its less stable neighbors to the west, disease, malnourishment and violence are leaving a mark on this generation of Kenyan children.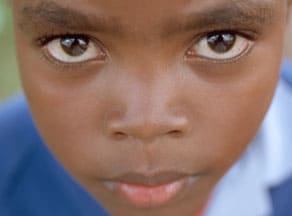 About 500,000 Kenyan children are missing school due to lack of food.
According to the World Food Program, in countries where school attendance is low, the promise of at least one nutritious meal each day boosts enrollment and promotes regular attendance. Where that is not offered, hunger interferes with the children's concentration in class, affecting class performance. As famine takes its toll across the country, a growing number of students are staying away from school altogether to help their parents look for food (The Standard, Sept. 23, 2009).
Drought and famine have led to an increase in the high school dropout rate primarily in schools in the Njoro and Nakuru areas. While 29 percent of children in Nairobi are malnourished, that number increases to 42 percent in the Eastern Province (Daily Nation, Oct. 7, 2009).
The United Nations Scientific and Cultural Organization (UNESCO) has stated that malnutrition is the major barrier to universal primary education in Kenya.
Famine conditions have also affected livestock in the rural areas of Kenya, undermining the primary source of income for pastoralists, especially the Maasai population.
Continue Reading ›
On October 1, the Chamber of Agricultural and Agro-industrial Affairs in El Salvador published in a local newspaper that about 8 million quintals (1 quintal = 220 pounds) of maize were lost during the harvesting season last August.
Prices in general have increased, reducing the buying power of the average Salvadoran. On average, people are spending twice as much money on staples for the same amount of goods.
But Juan Carlos looks at his crops that extend over the mountains of the El Capulin community about 45 minutes north of San Salvador and says, "What crisis?"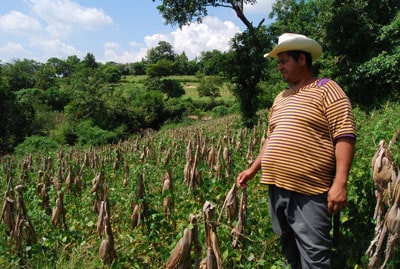 He explains that he has received help with his crops from Compassion through the child development center his children attend. The help came through a Complementary Intervention (CIV) developed by Salem Bible Church with the advice from Compassion El Salvador.
Complementary Interventions are additional funds that are obtained through proposals written by the Compassion country office as a team with the implementing church partners.
Since sponsorship funds are strictly used to run the day-to-day operations at the child development centers — to meet the basic four components of child development (spiritual, physical, educational and socio-emotional areas) — additional funds obtained through CIV are necessary to implement additional benefits, such as entrepreneurship workshops, or to provide equipment for the centers (computers, water sanitation units, etc), or to offer crisis response and relief.
The CIV proposal Juan Carlos benefited from is called "Fertile Soil." It has blessed a total of 19 families who had no resources to plant and who depend on agriculture for a living.
Continue Reading ›
Tall green mountains, healthy crops, rain right after noonday, wholesome soils. This used to be what people pictured when they thought of Guatemala.
But not anymore. The food crisis in Guatemala has become so severe that the president has declared a state of calamity, and the rate of undernutrition in children under 5 has reached 49 percent.
Many remember the famines in China in the 1950s and 60s. Or in Ethiopia in the 1980s. But famine is just not a problem of the past. It still happens in countries that have economies prosperous enough so that no child should have to suffer chronic or severe malnutrition. This is the case in Guatemala.
In Guatemala, the face of poverty and hunger is young, indigenous and rural. Guatemala, with the fourth-highest rate of chronic malnutrition in the world and the highest in Central America and the Caribbean, faces a serious challenge in reducing the rate of chronic undernutrition.
One of the causes fueling the current food crisis is the state of education in Guatemala.
Continue Reading ›