This week, I witnessed one of the most precious moments I've experienced since working at Compassion. I'm traveling as a writer with about 25 sponsors on a Sponsor Tour in Guatemala. On Monday, a few of us visited Chico's home.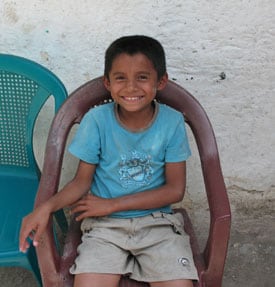 Chico is an adorable 9 -year-old sponsored child. He and eight other family members live in one house with no electricity. His mother, Miriam, does what she can to support her family.
"I work all day, every day to take care of my children. I make tostadas and sell them. Since their father left me, it's up to me."
Making and selling tostadas brings in about $10 a day.
While we interviewed the family, Laura, a sponsor from Virginia Beach, Va., asked Chico if he knew Jesus. After our interpreter, Carlota, asked Chico the question for us, she started to cry. I couldn't figure out why.
Carlota explained that Chico's answer was no, but that he was ready to invite Jesus into his heart. He had heard about Jesus at his development center, but hadn't committed his life to Him yet. So, right there in the middle of their kitchen, Laura led Chico in a prayer of salvation.
She explained to Chico that when someone invites Jesus into their heart, angels in heaven rejoice (Luke 15:10). She told him, "The angels are having a big party for you, Chico, right now."
Chico's smile at that moment will stay with me the rest of my life.
If you're part of Compassion's ministry, you were a part of this moment.
Continue Reading ›
It is a sunny Sunday morning in San Salvador. It is dry season.
Just as any other Sunday, there are people in the streets coming and going. Housewives with shopping bags going to the local outdoor market to buy the ingredients for lunch, families with their best garments coming from church, and kids going with balls to the park.
The air is filled with freshness and calm, and somehow the future seems brighter for many people going to the local church in the Majucla community.
In a neighborhood named Cuscatancingo, in a poor area of San Salvador, walls full of graffiti, stray dogs, and police and military forces are part of the normal landscape. There are also groups of teenagers with baggy pants and big shirts, some of them with tattoos. They are gang members just 'chilling.'
In this neighborhood, there is a church named "Tabernaculo Biblico Bautista Majucla" or Baptist Biblical Tabernacle of Majucla. And on this day, at a little bit past 10 in the morning, there are over 100 people in the church.
There is a line outside of the church, and it is growing. The church is almost full. For anybody just passing by, this seems like the second service at the church, but it's not. The message is a bit different because it is a monthly meeting that the center has with the parents of the children enrolled. (more…)
Continue Reading ›
"Lord, if you allowed this to happen, it's because you will give me something better." These were the words that Rosalva expressed when she saw her home torn apart by an earthquake that hit the town of San Lorenzo, in the department of Ahuachapan, about 100 km west of the capital city San Salvador, in El Salvador.
Earlier that day, at about 1 in the morning, the town had felt a tremor. Then, at 11 a.m. of the same day, a 4.6 earthquake hit the area; this is like detonating 1,000 tons of TNT.
Rosalva worked as a baby sitter on the other side of the town, and as soon as she could, she ran home, only to see a big hole in the roof, since most of the tiles had fallen off because of the magnitude of the quake. The walls, made of adobe (a mix of clay and straw), had cracks all over, and the danger of them falling apart was evident.
Thanks to God, her family was okay, but the damages to the house were irreversible. "All four corners of my house were completely separated" says Rosalva, trying to describe how her home, a small, one-room house, had cracks so big that the corners were not together anymore. (more…)
Continue Reading ›