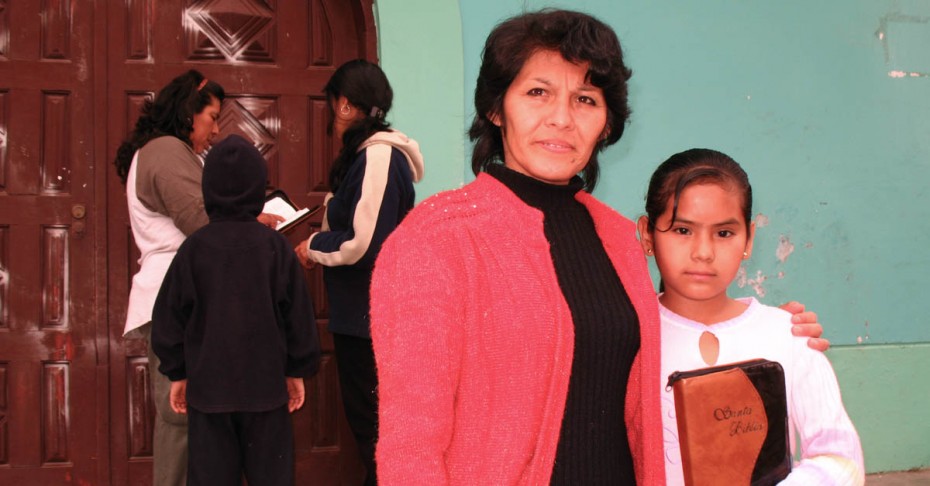 To talk about Easter is to talk about Christianity, and to talk about Easter in Peru is to talk about a variety of traditions in the country. The most common traditions began during the colonial times when the Spaniards brought their culture, and their religion, to Peru.
Continue Reading ›
Last week, I was able to attend the Willow Creek Association Leadership Summit at a satellite location here in Colorado Springs. It was so encouraging to hear many of the speakers talk about the need to lead people toward answering the Biblical mandate to speak up for and care for those in need.
Something Wendy Kopp said at the Summit struck me about how we approach leading others toward caring for those in need.
Wendy Kopp is the founder and CEO of Teach for America, a non-profit that asks college graduates to commit to two years of teaching in under-resourced schools.
She was asked how she approaches asking these graduates — some of who could otherwise accept six-figure jobs — to sacrifice so much, putting aside wealth and "success" to teach in schools many would avoid. She said (and this is paraphrased, as my little hand could only scribble so fast as she answered):
You're giving people an opportunity to be part of something larger, and of significance — people want that … are we afraid to ask people to sacrifice and set a high bar? Your own personal conviction about the work makes it easy to ask others to sacrifice because you're giving them a gift that will change their lives.
When we tell others about the opportunities to care for those in need, we might feel like we're putting a burden on them, but far from burdening them, we're giving them a gift. We're giving them the opportunity to enter into another aspect of our relationship with Jesus as we follow him.
Several times when talking with someone who has come across the book I wrote about responding to poverty, they say they're scared to read it. So many are scared of this issue of poverty, and understandably so — it's big and hairy and complicated. And God might ask us to do scary things.
But I think there's a third reason people are afraid of poverty — they're worried a big, fat load of guilt is going to be placed on their shoulders. We've been bombarded by so much guilt when it comes to poverty, seeing so many images that evoke guilt and being told "shame on you for drinking that Starbucks instead of caring for a baby."
Are we guilty for not responding to God's mandate to care for those in need? Yes, but God hasn't appointed us as judges of others. He has appointed us as messengers of his grace. And I think when we do approach others not with guilt but with grace, they grasp that helping those in need isn't about checking off a requirement on our good-Christian to-do list so that we can not feel so guilty. It's about our relationship with Christ — about following him, obeying him, and knowing him all the more as we become like him in our service to others.
"He defended the cause of the poor and needy, and so all went well. Is that not what it means to know me?" declares the Lord. (Jeremiah 22:16, NIV, emphasis added)
Continue Reading ›