As I write this, there are tears splattered on my keyboard and mascara smeared on my cheeks. I'm not much of a crier, perhaps being desensitized as a result of reading painful stories every day. But this video of Jimmy Wambua meeting his sponsor has made me cry like a baby. 
 

The reason why is I know Jimmy. Jimmy stayed at our house for two weeks, so he went from being a former participant in Compassion's sponsorship program, an African, and someone with a different culture and accent, to being a friend. To a human.
 
As much as we don't want them to, our differences — culturally, geographically, economically — can separate us. "Others" can seem so very other. So unlike us. So "unrelatable."
Yes, we have compassion for them. But it's hard to really relate to them. Understand them. View them the same as we view ourselves, our neighbors, our family.
 

But Jimmy is my husband's age. The two of them sitting on our couch talking about girls made Jimmy so utterly real to me. He's someone who despite all our differences is so like us.
 
Someone who simply had a sponsor who loved him, who told Jimmy that Jesus loves him, and set his life on an entirely new path. 
 

So when I watch this video, I don't just see some African who some Canadian "saved." What I see is myself in another situation, another time, another circumstance. I see that this could have been me. And I see that this can be my sponsored child.
You can also view this Catalyst 2009 video on Vimeo.
Continue Reading ›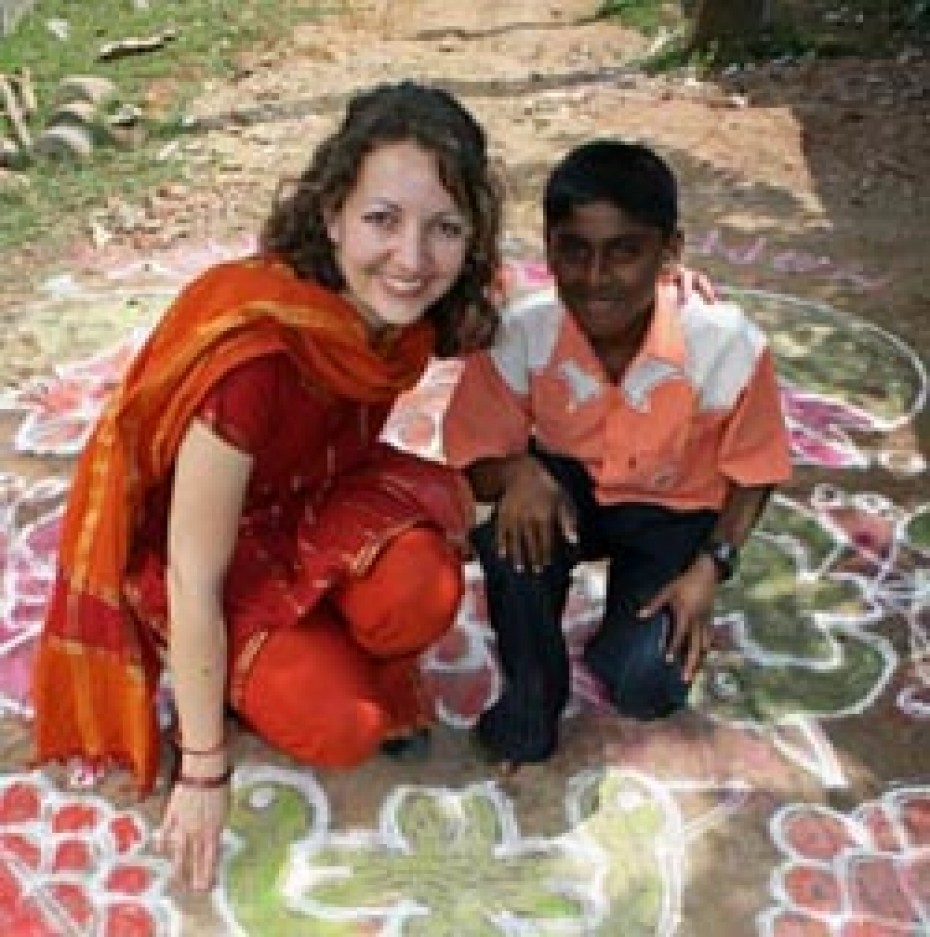 NOTE FROM EDITOR: This content honors Compassion's historical work in India. While we no longer have an India sponsorship program, we are grateful for the lives changed and meaningful work achieved through our sponsors and donors in our nearly 50 years there. For a detailed explanation of the end of our sponsorship program in India, please visit: compassion.com/india-update.
---
When I was in India last month, I met the boy I sponsor, Sarath. I had been hoping and praying to meet him, and I just happened to be taking a work trip to India.
I was a bit nervous. Don't tell, but I'm not great with kids. I know I work at Compassion, but I'm a writer–more natural with a keyboard than with real, live people, let alone children who can smell fear. So I wasn't sure how this was going to go.
The day I visited his village outside Chennai was Pongal, a festival in the state of Tamil Nadu. Along the way, we saw bright sand drawings outside every doorway and cows adorned with flower garlands for the holiday. I had put on my nicest salwar kameez, vainly worrying he would think I was some weird-looking old white lady.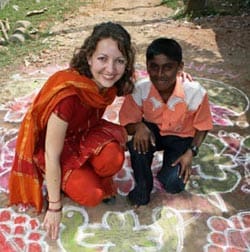 We arrived in Sarath's neighbhorhood, and I was so happy to see that it was a relatively nice, pleasant place. There was space between the homes, his family had their own bathroom and even a little courtyard to play in and wash dishes.
Sarath was waiting outside. I'd like to say we rushed toward each other and hugged and cried. We didn't. (I learned on my trip that Indian children don't seem to be as into hugging as other cultures are.)
We shook hands and he whispered something in my ear. He was very sweet. He was so shy that during the entirety of my visit, he only whispered a couple of short phrases in my ear, so quietly I couldn't tell if they were in English or Tamil.
We stepped inside and I met his mother, two lovely sisters, aunt, and cousin, who all share the same little room for their home.
On their shelf was a picture of my husband and I. His mother told me that he likes to call us "Mommy" and "Daddy," even though the project taught him to call us Auntie and Uncle. Sarath tells his mom that even if she dies, he knows he'll be OK because there's someone else who cares about him. (more…)
Continue Reading ›
I knew that she was a sweet little girl, but it wasn't her face that told me so. Her face had a hard look, as if smiling was an indulgence; something reserved for close friends and family only. But the hardness in her face wasn't a frown. It wasn't unhappiness I saw there. It might have simply been shyness and uncertainty.
After all, who was I? Some American who swooped in to pass around the good feelings before returning to vast shelters of wood, composite and stone? Someone who wanted to "do little good" and make himself feel better before returning to his consumer Christianity?
It's possible all of this was on her face and in her four-year-old mind. Children are, after all, very perceptive.
But maybe I was projecting. Maybe my mind was simply painting my own guilt on her stoic face.
I stood in the courtyard playground of that child development center in Bonao, hours outside of Santo Domingo and less than a day after arriving in the Dominican Republic (DR), and the sun's heat felt more like that given off by an interrogation lamp than life-giving warmth.
Why was I really here anyway?
I came to the DR to lead a men's retreat with three others. Two other Compassion employees and one elder of a local church. Our host was an employee of the DR country office. The next day, we were to begin speaking at his church and leading what we hoped would be a revival for the men of Santo Domingo.
So I was there to speak. To challenge, encourage and uplift.
But even more, I discovered that I was there to listen. And to be challenged, encouraged and uplifted myself.
Our first day in the country was a Compassion day. A chance for three of us to see, for the first time, the results of the work of thousands around the globe working to further the cause of Christ.
It was a holiday in the Dominican Republic, so we didn't receive the 300-child welcoming party I'd heard is often customary when visiting a Compassion child development center.
Instead, we were greeted by a handful of children. Several boys and, as I remember it, one little girl with a hard face, but who radiated sweetness nonetheless.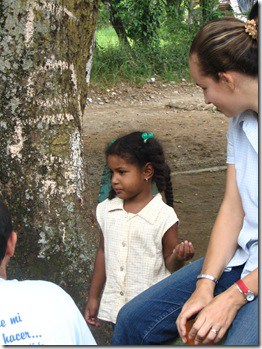 But from where? I wonder now what drew me so strongly to this sweet child, only present that day because her mother, Rosa, is their volunteer cook.
Perhaps it was the English.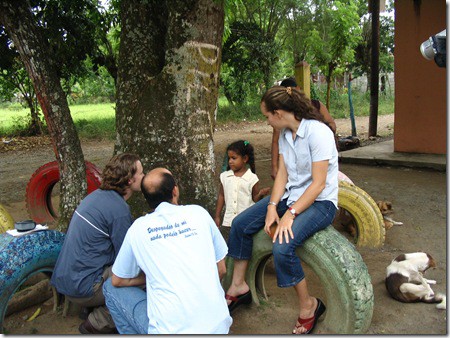 Shortly after meeting Ana Maria, I knelt down to speak with her, with our friend and translator, David, at my right.
"Hello Ana. My name is Brandon."
And before David could translate, she spoke.
"Hello," she said, in English. There was a softness in her voice, one that smoothed her features and melted my heart.
"God bless you, Ana," I said.
"God bless you," she replied, again without waiting for David to translate. The center facilitator, who was sitting nearby, smiled.
"She wants to learn English."
"That's wonderful." I looked back at Ana Maria and smiled at her.
She didn't smile back, but the hardness I had seen at first was gone. Better yet, the image of hardness I projected on her face at the first was replaced with hope.
Cautious hope. And a desire to smile, but maybe not just yet.
Ana didn't have a sponsor before that day. But by the time I left, she did.
I wonder sometimes if she remembers meeting me. If she recalls meeting an American man who would return home in days and slide unwittingly back into Western and indulgent living, but who now had a lifeline to need, reality and truth. A lifeline that somehow sustains both the giver and receiver.
I hope she does remember. Two years from now, my wife and I plan to return to the DR to visit Ana Maria and her mother. My wife will meet them for the first time, and I will see them once again. We'll hug, pray, play and speak English and Spanish to each other.
And maybe, just maybe, we'll smile.
---
Brandon Satrom is the Enterprise Applications Architect for Compassion. He works in IT evaluating both new and emerging technologies and helping Compassion IT make the best use of existing technologies.
Continue Reading ›
I met an amazing young woman this week while leading a trip to see Compassion's work in Honduras. The young woman's name is Rosa, and she is part of Compassion's Leadership Development Program.*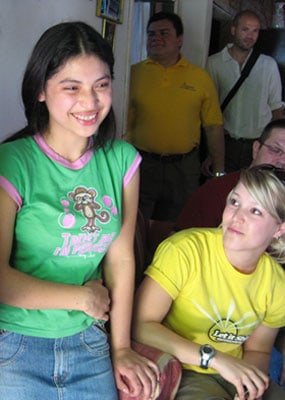 This university-based program, known as LDP, works with high achieving and high potential students from Compassion child development centers. The LDP program in Honduras is in its first year, and Rosa is one of 19 students in the inaugural class. It is inspiring to hear the LDP stories throughout the world, and I was honored to be in attendance at Ethiopia's first LDP graduation a few months ago.
Compassion's President, Wess Stafford, stood in front of the 24 Ethiopian graduates and congratulated them on completing their college degrees and then challenged them to be servant leaders in their communities and nation. He closed his talk to them by saying, "You may have been born into poverty, but poverty was not born into you."
Rosa is a testimony to Wess' statement. There were many times in her difficult life where she could have given up, and most of us would not have blamed her. However, if you spend just a few minutes with this remarkable 17-year-old girl, you will realize that giving up was not an option. She shared with us her daily schedule, and it is a great snapshot of the will and determination of Compassion's LDP students.
6 a.m. – Wakes up each morning to clean the house and make sure all laundry is done for her mother and brother. Rosa's mother raised all five of her children alone and works at a local restaurant cooking chicken.
8 a.m. – Prepares breakfast for her family.
9:30 a.m. – Begins baking tortillas to sell for the business she operates out of her home. Each day Rosa makes tortillas and people come from around the neighborhood to purchase them to eat for lunch. The money she earns from her business is used to help buy food for her family, and it also pays for her bus fare to and from the university.
12 p.m. – Finishes selling the tortillas and starts lunch for her 14-year-old brother. After he has eaten, she makes sure he gets off to school.
12:30 p.m. – Cleans up, eats her own lunch, and studies for her afternoon classes.
1:30 p.m. – Takes the city bus to the University of Tegulcigalpa, where she is a first-year student studying Business Administration.
7:30 p.m. – Returns to her home and spends the rest of the evening studying and spending time with her mother.
Rosa was asked what she would like to do once she graduates from university. "I eventually want to own and operate a business in my community but first I think I want to get my Masters degree," she says.
The question, "What does success look like for Compassion International?" has become an easy one to answer because of students like Rosa.
---
*This content honors our historical Leadership Development Program. To learn more about our current youth development opportunities, click here. Brian Seay is an artist relations manager for Compassion, working with musicians and bands who advocate for Compassion and children in poverty. He was one of the bloggers on the Uganda blog trip.
Continue Reading ›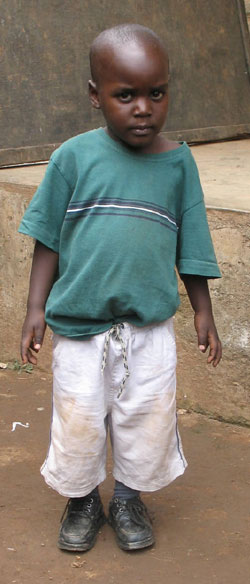 Last night was one of the best nights of my life. I got to meet Amisi, my 5-year-old sponsored boy; the Uganda office was kind enough to coordinate our visit.
I have to say, Amisi has to be the cutest boy in the entire country. Of course, I'm sure I'm a bit biased. I was worried he would be scared or overwhelmed by Kampala since it's such a large city. But he was so excited. As soon as he saw me, he ran to hug me. He loved the coloring books, stickers and his new ball, but nothing could compete with the doors in the hotel lobby that automatically opened. He'd never seen anything like it. He was squealing and laughing so loud I was afraid we'd get kicked out of the hotel!
He knows a few English words. He knows, "Jesus," "Thank you," and "sponsor." He also knew enough to laugh at me as I tried out a few words in his native language.
I really didn't think he would understand who I was, but the project director said he's been telling all of his friends that he was going to meet his sponsor. He was excited all week.
If you are a sponsor, I would encourage you to check into visiting your child! It means so much to them — and to you! If you don't already sponsor a child, please pray about it today!
---
Continue Reading ›