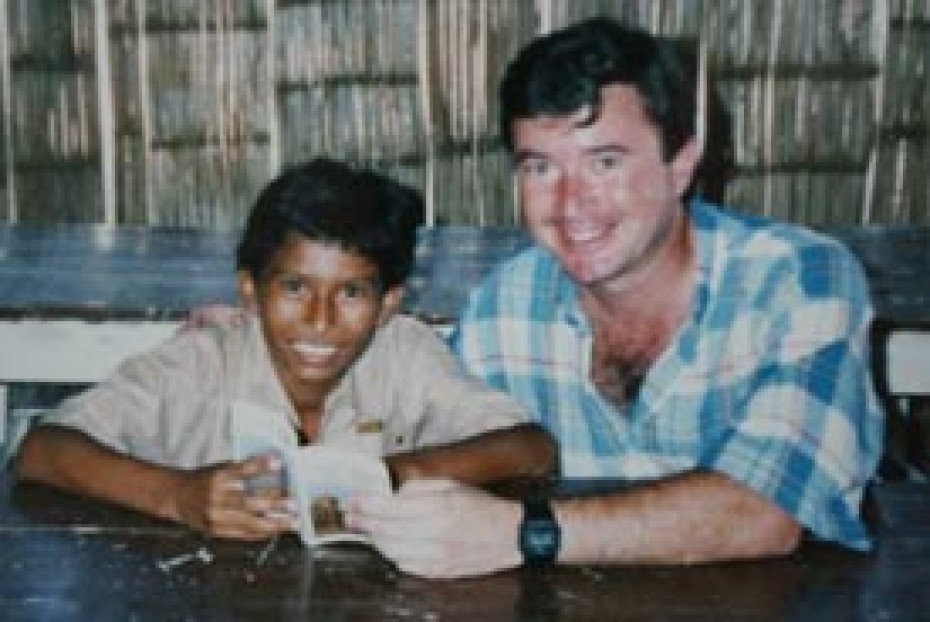 Allen Charles Graham is single, but he understands the meaning of the word "commitment." He started sponsoring children in 1989 when he lived in the United States, working at a TV network. Currently, he lives in Ecuador and is the Training Director at HCJB Global Voice radio station.
"This was something I always wanted to do ever since I looked at the advertising spaces in some magazines."
Allen had the opportunity to take a closer look to the blessing of sponsoring children when he came to Ecuador for the first time back in 1989 as a "working visitor" for HCJB. He was assigned a prayer partner, who happened to sponsor an Ecuadorian child.
When the prayer partner visited his sponsored child at the coastal city of Guayaquil (260 miles from Quito), he came back and he showed pictures to Allen and shared about that experience.
That was when Allen received that special motivation and knew he was going to commit to sponsor a child as soon as he went back to the United States.
Actually, that was one of the first things Allen did when he was back home. He looked for a Compassion ad in a magazine, cut the invitation to sponsor a child, filled it out, and sent it including this note: "I prefer an Ecuadorian child."
"In September 1989 I received a package with the information of a boy, Marcos from Guayaquil."
This boy, the first child he sponsored, was 10 years old.
Surprisingly, a couple of months later in 1990, Allen received an invitation to give some lectures at the English Fellowship Church in Quito. Of course, he took the opportunity to visit Marcos.
So in July of that year, Allen met Marcos in Guayaquil. Marcos was 11 years old by that time, and he just talked and talked all the time.
"I didn't speak Spanish and Álvaro, the translator, couldn't translate fast enough all the things Marcos said."
Sign language and, most of all, the language of love … hugs, tickles and smiles, let Allen and Marcos establish a strong friendship bond. When they were saying their good-byes at the airport, Marcos said, "I will pray a lot for you to come back to my country." … And God did answer his prayer!
Allen was called by God to move to Ecuador as a missionary. In March 1992, HCJB accepted his application and later that year he traveled to Costa Rica to learn Spanish.
August 19, 1993, is a day Allen will never forget since it was the day he arrived in Ecuador after a special call by God. He was not just willing to be a missionary with HCJB, but was yearning to see little Marcos again, for Marcos had stolen his heart, and God had listened to Marcos' innocent prayer.
Since that time, Allen has sponsored a half dozen children. He is currently sponsoring two children — a girl in Ecuador, Mariuxi, and a boy in Bolivia, Pedro.
From all those children, Marcos is the one who left a very deep imprint in the life of this communicator highly committed to children.
At the present time, Marcos is 30, and this sponsor/sponsored-child relationship has evolved almost into a father-son relationship. (more…)
Continue Reading ›
It is a sunny Sunday morning in San Salvador. It is dry season.
Just as any other Sunday, there are people in the streets coming and going. Housewives with shopping bags going to the local outdoor market to buy the ingredients for lunch, families with their best garments coming from church, and kids going with balls to the park.
The air is filled with freshness and calm, and somehow the future seems brighter for many people going to the local church in the Majucla community.
In a neighborhood named Cuscatancingo, in a poor area of San Salvador, walls full of graffiti, stray dogs, and police and military forces are part of the normal landscape. There are also groups of teenagers with baggy pants and big shirts, some of them with tattoos. They are gang members just 'chilling.'
In this neighborhood, there is a church named "Tabernaculo Biblico Bautista Majucla" or Baptist Biblical Tabernacle of Majucla. And on this day, at a little bit past 10 in the morning, there are over 100 people in the church.
There is a line outside of the church, and it is growing. The church is almost full. For anybody just passing by, this seems like the second service at the church, but it's not. The message is a bit different because it is a monthly meeting that the center has with the parents of the children enrolled. (more…)
Continue Reading ›
The main room is decorated with Christmas posters. Children are laughing and talking. One can feel the atmosphere of Christmas, the musicians do not stop singing, while children finish eating dessert.
Continue Reading ›