German models his life after a verse he learned at the child development center he attended as a child:
Start children off on the way they should go, and even when they are old they will not turn from it. –Proverbs 22:6, NIV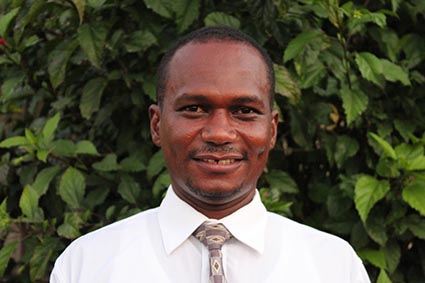 Despite the harshness of German's life, the faithfulness of God protected him from succumbing to the vices, violence and crime that surrounded him from the day he was born.
Due to enormous economic and emotional limitations, he had to learn to cope by himself at a very early age. After joining our program German was first attracted to the breakfasts we provided, but then he began to stay longer.
"While all my friends left, I stayed at the church. I started to like the choruses and the simple drawings they did. That was something that helped me find the Lord at that time."
The child development center became his true home and he attended hoping to find the affection, shelter and food he lacked at home.
Life for a child like German is never easy. At the age of 13, he joined a gang and things began to go downhill with vandalism, crime, alcohol and drugs.
"It was very painful, a very hard time in my life when I ran from Jesus Christ."
During that period of time, German moved completely away from God, but God did not draw apart from him. Marta, the child development center director at that time, never forgot German. She was always looking out for him and, when she found him on the streets — often in deplorable condition — she picked him up in her truck and took him away, month after month, year after year.
However, things changed one day when German was 19.
"I was standing on a corner, looking for people to rob. I was almost crazy after inhaling canned cement when a car lost control and hit me."
After regaining consciousness, bleeding and dazed, he was able to get home, without even understanding what had happened.
While he was home a Christian sister from the church came to see him, but not by chance. She asked German about the accident and he told her.
This sister then told him,
"At the time of the accident I was cooking, and God made me pray for you because your soul was to be taken, and God wanted to give you a second chance."
German shares,
"At that moment I began to cry. I was trembling, embarrassed and apologizing. I said goodbye to this sister and went to the room and said to God, 'Well, if I was dead and You have given me another chance, this life I have, I give it to You!'"
That day, German returned to God.
He straightened out his life, changed his habits and learned to make a living in several trades. These trades taught him how difficult it is for those who make their living honestly doing things like working as cleaners, assistant mill hands or cement loaders.
German's future did not look good, but he had an advantage that made all the difference. Due to the constant care and supervision he received from Marta, he never stopped studying, except for a two-year period when he stopped going to school.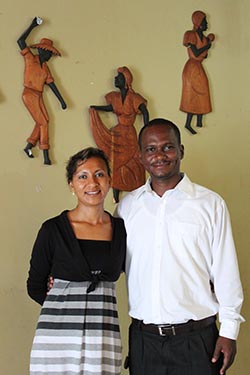 He finally got a job as a bookstore manager, finished high school and enrolled in college.
In college, he met and married Magaly. The blessings did not stop there. He, as an administrator, and she, as a secretary, had their own home.
But a new challenge arose.
The president of Iglesia Evangélica Misionera Ecuatoriana (IEME) approached German one day and proposed he go to San Lorenzo, a town 112 miles north of Esmeraldas, to take charge of a church that was about to close.
But doing that meant German and his wife must give up their steady jobs and move to another city to study full time in preparation.
"I spoke to my wife, and we both agreed, so we went to study at Seminario Bíblico Alianza [Alliance Biblical Seminary]."
After graduation, German and Magaly traveled to take over the pastorate of the church in San Lorenzo. The church had a budget of $18 and eight members, the youngest of whom was 65 years old.
Today the church's congregation has grown to 200 members and has nine cell groups, 15 well-prepared leaders and others in training. There are now 14 churches, six of which were established thanks to the ministry of Pastor German.
"Our church has witnessed what Compassion and its ministry have done with children who are now adults, who are pastors, leaders. That is the reason why we have been open to Compassion's programs in our mission.

"We believe that all the children who join Compassion can make a difference. Although it may seem that they are destined to misery, through the gospel and the principles they are taught, they may change not only their family, but the community and the society itself."
---