I thank God for the opportunity of being part of the Compassion family for 12 years. Registering new children into the program is my most exciting activity in the ministry. It is such a godly and inspiring moment when you see the beaming joy of those registered.
On the other hand, it is a sad story when you see so many mothers with their children crying before the pastors, asking that their children be considered for the program.
During my journey of 12 years, God has continually taught me about the role of an individual. One staff member in the field office matters a lot. Each one of us is unique, differently and uniquely gifted.
Because each Christian carries the purpose of God in his or her life, joining this ministry brings riches, wealth and blessings because of who you are. The examples of Jonah and Joseph in the Bible amplify how an individual in any setting can be a source of joy and blessings — or otherwise.
The relationship and the commitment I have to my Lord Jesus Christ is a key factor in how I become a blessing to the rest of the staff.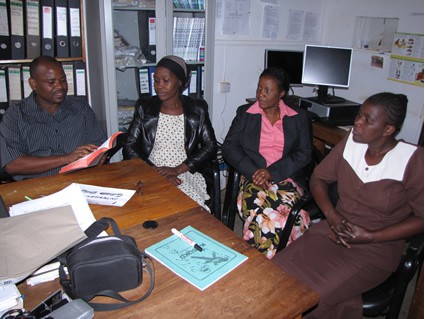 As we continue growing as a global ministry, let's continue valuing and loving one another. It is because of your fellow staff members that you are what you are today.
Reflect on the role God has given you in Compassion or elsewhere. You have an impact, which emanates from your spiritual status and your relationship with God. It is my prayer that I may be a reason for God to bless Compassion.
I encourage all of us to see each other as a reason for God to bless the ministry of Compassion and the beneficiaries we minister to.
"From the time he put him in charge of his household and of all that he owned, the LORD blessed the household of the Egyptian because of Joseph." –Genesis 39:5a, NIV
Prayer: Lord, make us a reason for blessings and healing wherever we go.
---

ABOUT THE AUTHOR: Elieshi Kisinza is a Program Director in our office in Tanzania.
Read all the One in Spirit devotionals.