TOMS shoes has a simple idea. One for one. Buy a pair of shoes, and they will give a pair to a child in poverty. This simple idea vaulted them to the top of the social-entrepreneur category and put them on track to give over a million pairs of shoes in just five years since the company started.
But is life really that simple? Are faith, work, or relationships that simple, or are they much more complex? Is the execution too complex for such a simplistic dream?
TOMS' idea of sharing shoes with the poor is a simple one, but quite possibly it's a complicated thing to get shoes manufactured, shipped to stores, sold, the funds processed, shoes shipped to the developing world and distributed in the right sizes to the right children in an orderly fashion, and on, and on, and on.
Thankfully, God's love for us is simple. It may be difficult for us to wrap our minds around, but just as we don't see every way in which TOMS shoes are actually placed upon the feet of the poor, we know that it happens. For the buyer and the one receiving the free pair of shoes, it's just that simple.
And for us, the recipients of God's grace, unconditional love, and forgiveness, it's also just that simple. We don't have to check off an entire list of manufacturing regulations in order to receive it.
Jesus came in simple form: a baby, born into a poor family, in a stable, without all the bells and whistles. He ministered in the same way, befriending the unlovely and telling stories people could understand.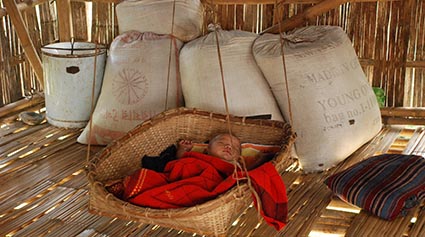 God loved us so much that He sent His son to die for us. Love can be a complicated thing, but when freely accepted, it becomes what it was intended to be—just love, pure and simple.
May our Lord Jesus Christ himself and God our Father, who loved us and by his grace gave us eternal encouragement and good hope, encourage your hearts and strengthen you in every good deed and word. —2 Thessalonians 2:16–17, NIV
Prayer: Lord, please help us understand the simplicity of your love. Help us fully grasp that you want nothing more from us than to love you with all our heart, soul, and mind.
---

ABOUT THE AUTHOR: Jason Graves works as a Ministry Director for the Child Survival Program at the Global Ministry Center in Colorado Springs, Colo.
Read all the One in Spirit devotionals.