We had been out of college and married just a couple of years when my wife and I moved to another part of the country without employment. This rather bold step of faith at first seemed difficult, and we wondered if we had been foolish to leave the support of our families and good jobs to start a new life in Colorado.
But within the first week of arriving at our new home, God intervened and connected us with old friends from college who were in the same situation we were in; they had moved the week earlier.
The four of us were amazed at God's faithfulness in bringing us together during this season, but this was just the beginning stage of a powerful lesson of faithfulness that God was teaching us.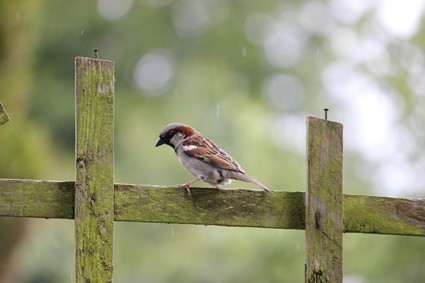 Several days after our move, this brother and I decided to go hiking in the mountains. We would dedicate the day to fasting and prayer for God to intervene in our employment situation.
As we hiked, we discussed our concerns about the economy, the high unemployment rate in the area, and of course our current financial state.
As we traversed the beautiful mountainous region where we live, we decided it was time to pray. We chose a log to use as a seat, and my good friend began to pray.
Just as he started to speak, I felt a light touch on my shoulder. Opening my eyes, and in great amazement, I saw a small sparrow sitting on my forearm, a healthy little bird who decided to join our time of worship.
I interrupted my friend's prayer with a nudge, urging him to look at who had just joined us.
We both sat in complete silence and reverence, knowing full well that this small bird was being used to deliver a reminder to two anxious men, that "not even one of these sparrows is forgotten by God," and, oh, of how much more value are we to our Heavenly Father!
"Are not five sparrows sold for two pennies? Yet not one of them is forgotten by God. Indeed the very hairs of your head are all numbered. Don't be afraid; you are worth more than many sparrows." — Luke 12:6–7, NIV
Prayer: Lord, we place our fears and worries in Your hands. We thank You for Your faithfulness and loving care toward Your children.
---

ABOUT THE AUTHOR: Tim Chambers works as the Management Support Director in West Africa.
Read all the One in Spirit devotionals.