Children are the most ignored and vulnerable group in Bangladesh, and the children we serve there are some of the poorest in the world.
But these children, who live in circumstances we can't imagine, are learning to see hope in their lives and how to help others.
When they heard about the Jan. 12 earthquake in Haiti and that Compassion-assisted children were affected, it broke their hearts. Every day they were at the development center, they prayed. But they went beyond that as well.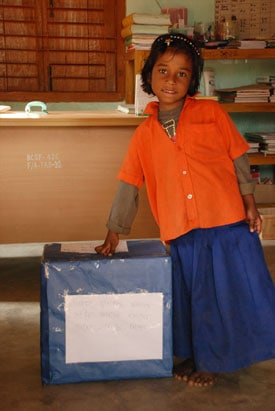 Though some of the children get their only meal of the day when they go to the center, they still wanted to help the children of Haiti financially.
Boxes were placed in each  center, and the children gave what they could to help, as did some of the Compassion staff and parents.
The 88 child development centers in Bangladesh raised $3,909!
That's a lot of money for some children in Bangladesh who earn just pennies a day. And it brought to mind the widow and her mite.
In response to the earthquake, I gave out of my wealth, but these children gave out of their poverty. They gave far more than I did.
For me, it was a reminder once again that God chooses the things this world considers foolish to shame the wise. Those weak to shame the strong.
Let's rejoice at how God works through these little ones … and let's strive to be more like them.
Jesus sat down opposite the place where the offerings were put and watched the crowd putting their money into the temple treasury. Many rich people threw in large amounts.

But a poor widow came and put in two very small copper coins, worth only a fraction of a penny. Calling his disciples to him, Jesus said, "I tell you the truth, this poor widow has put more into the treasury than all the others. They all gave out of their wealth; but she, out of her poverty, put in everything—all she had to live on." — Mark 12:41-44 (NIV)
---
David Adhikary, the field communications specialist for Compassion Bangladesh, contributed to this post.