I stood on a hill in Port-au-Prince just five days after the massive earthquake that shattered the city. As far as I could see — in every direction — rubble, dust, mayhem, shock.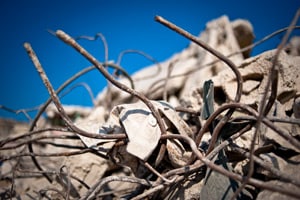 My eyes saw things that no human being is meant to see. My nose smelled things we weren't meant to smell. But my ears … my ears heard something that I never expected in the midst of the destruction.
Yes, there was weeping, moaning, groaning over the loss of life. But there was something far more powerful.
Worship.
There, in all the rubble, people were worshiping God. A cluster of families, forced into a tent city by the temblor, gathered around a man with a poorly tuned, dusty guitar, raising their voices to "God Is So Good … ."
That's the moment the first line of this song came to me, "You are here in all the rubble, where the broken-hearted grieve."
I believe there will be a day when the world looks back on this incident in Haiti and sees that God is still in control. God is still here. In the hearts of His people. In the hearts of those who cry out to Him. The world will see His glory. Yes, even in the aftermath of one of the deadliest natural disasters in human history.
[gplayer href="https://blog.compassion.com/wp-content/uploads/misc/the-world-will-see.mp3″ ]The World Will See [/gplayer]

Download The World Will See. It's free.