How important are the different celebrations of the people of God. They had two purposes: historical and agricultural.
The feast of the Tabernacle celebrated the harvest that God had blessed throughout the years with rain (agricultural). During the week of this celebration, a tent needed to be built to remember Israel's time in the wilderness (historical, Nehemiah 8:14–18).
In times of abundance, it's easy to forget that everything we have comes from the good hand of God, and they didn't want to forget. On the last day, they sprinkled water on the altar made of stone in remembrance of God's provision of water from the rock in the desert.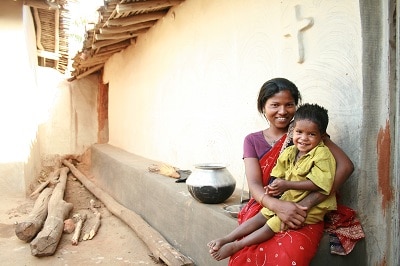 This is a tremendous message from Jesus! To stand up and tell us all that we now can partake in a better celebration — not just in temporary satisfaction, but to have our thirst quenched forever. The blessing of rain the people received gave them physical security and food but didn't give them spiritual or emotional health.
Jesus' provision in the life of a human being is so that we can be completely satiated and allows us be a source of abundant life.
Therefore, our satisfaction in the ministry of Compassion does not end with giving food and improving physical health. This is not enough. We work with the local Church because we firmly believe that only Jesus satisfies the soul and brings spiritual life through the atonement of His blood for all who believe in Him and remain in His Word.
Let's not forget to also raise our voices when the busy work and activities of the day want to leave us satisfied with mediocre results. The people of Israel were satisfied with good rains, but Jesus told them there was more: There are rivers of living water for you and every life that is near you.
On the last and greatest day of the festival, Jesus stood and said a loud voice, "Let anyone who is thirsty come to me and drink. Whoever believes in me, as Scripture has said, rivers of living water will flow from within them." — John 7:37–38, NIV
Prayer: God, help us remember that every resource in our ministry comes from you. Help us to be faithful in our remembrance of who has blessed us.
---

ABOUT THE AUTHOR: Rosario Inmenso works as the Learning and Support Specialist in Peru.
Read all the One in Spirit devotionals.