According to the United Nations, human trafficking is:
"the recruitment, transportation, transfer, harboring or receipt of persons, by means of the threat or use of force or other forms of coercion, of abduction, of fraud, of deception, of the abuse of power or of a position of vulnerability or of the giving or receiving of payments or benefits to achieve the consent of a person having control over another person, for the purpose of exploitation."
When I was in Thailand working with an organization that rescues girls purchased from their families and sold into prostitution, I was unaware of this definition of human trafficking.
When I spoke with the girls, my heart broke at the hopelessness filling their hearts. They were owned. And their captivity was the only thing providing food for their impoverished families living hundreds of miles away.
I don't like thinking about it because the hopelessness creeps back into my heart. It was one of the darkest places I have ever entered.
Each night, after immersing myself in the lives of these trafficked girls, talking to them, not having an idea about what to say, I went home and sobbed. I have never experienced anything so evil.
I could not, and cannot, possibly understand how one human being can exploit another like this.
How can I (and so many people I know) be so overwhelmed and so outraged about human trafficking and have it still exist in our world today?
Part of the answer is knowing God.
That sounds simple, but I think it's why this verse in Genesis came to my mind when I heard that today is Human Trafficking Awareness Day (in the U.S.).
"Whoever sheds the blood of man, by man shall his blood be shed, for God made man in His own image." — Genesis 9:6, ESV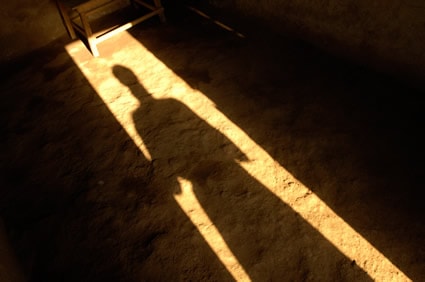 The people in my life who know me best, know God … really well.
My husband is becoming an expert in all things Brianne. It probably helps that we live together ☺ but I think it is deeper than that. I know he talks to God about me. Which makes sense, because God made me.
I believe the same about my best friends. They talk to God about me too. And He tells them about me. He made me.
And the people who know Him and love Him look at me and see Him.
He made me in His image.
I think this verse came to mind not so much as a reminder of a law that God laid down several thousand years ago. I think this verse came to mind as a reminder that we are to deal lovingly with all human beings because "God made man is His own image."
We can honor the children and human beings who are victims of human trafficking by committing to see every individual, every single human being, as a person made in God's image. To truly treat other human beings with respect and to show love and mercy.
But how do we do that?
It's just a matter of doing something.
Sponsor a child. Get involved with International Justice Mission, our partner in the 58: Alliance, or simply join us tonight at 7 p.m. MT for a Twitter chat with Zach Hunter, the teenage abolitionist and founder of Loose Change to Loosen Chains. (Follow the hashtag #cichats)
[1.12.12: If you missed out chat with Zach, here's a summary of how it played out.]
I believe human trafficking exists because someone looks at a child, a woman, a man and doesn't see God's image. And the consequences of that are grave and heartbreaking.
The second part of today's One in Spirit devotional verse is quite fitting for today. Don't you agree?
"We always carry around in our body the death of Jesus, so that the life of Jesus may also be revealed in our body." –- 2 Corinthians 4:10, NIV
As Zach says, "You are the someone. Today is the day."
Especially today.
"Our world is a messed up place. People are hurting. Suffering is everywhere . . . . Where is the help?

. . . This morning when you woke up, there were people around the world and in your own community who were hoping that today might be the day. The day someone stepped in between slaves and their oppressors. The day relief from suffering begins. The day they could feed, clothe and educate their kids. The day someone showed kindness to them, or let them know they had value . . . .

Don't wait for someone else. Don't wait for someday. Because, YOU are the someone and TODAY is the day."

— Zach Hunter