Here are 10 great reasons to write the child you sponsor. Don't miss your chance to make a difference in his or her life!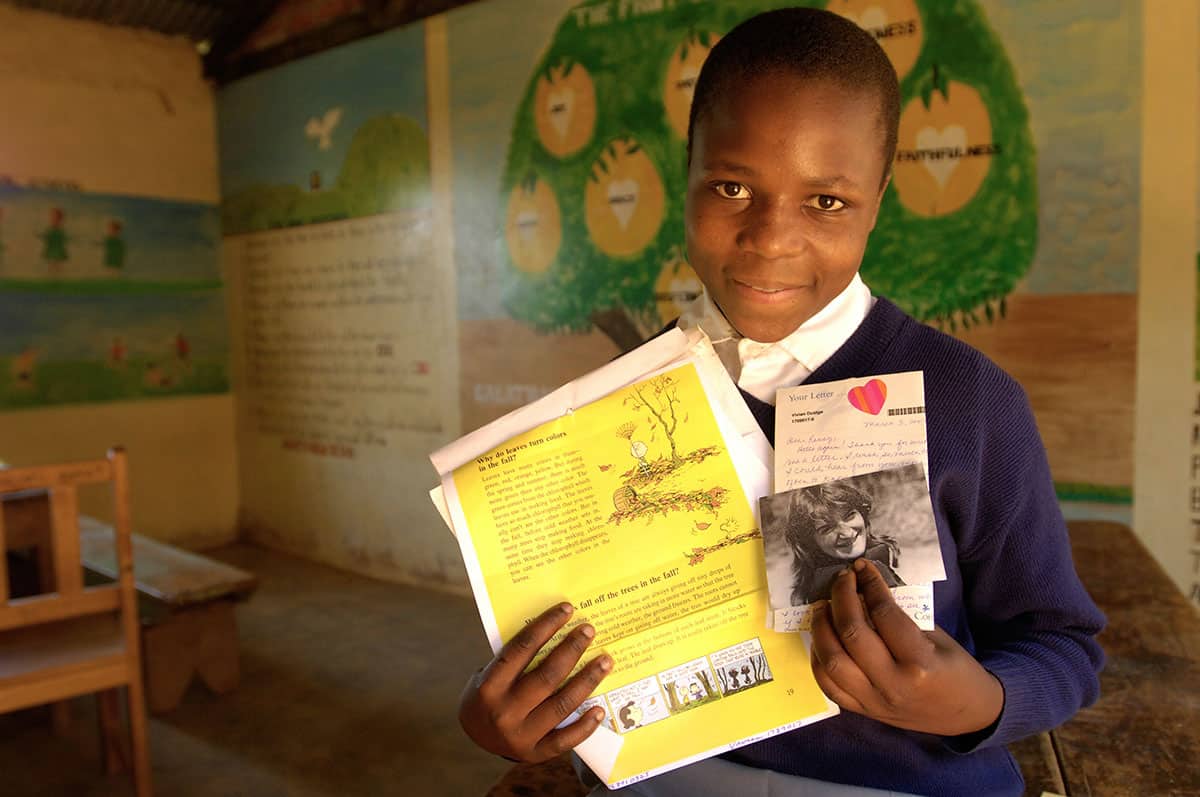 1. You were hand-placed for a purpose.
God paired you with your child for a reason. Ever think about that? Out of all the kids in the world, He picked your child. Out of all the sponsors, He sent you. You have unique words of encouragement, insights, and experiences that your child needs to hear.
2. You can change your child's story.
It might seem like just words on a page. But something in your letter will change your child's thinking, draw him closer to God, encourage her to dream. Don't know what that is? Trust God to work that out. All you have to do is start writing.
3. It takes less than five minutes.
It doesn't take long to send a quick note to your child — especially with our new online letter-writing tool. Pick a fun template, write a few words, upload some photos, and you're done. It's a five-minute investment your child will never forget.
4. It might be the most important thing you do all day.
Between deadlines and to-do lists, it's easy to lose sight of why we come to work every day. Writing to your child is a great way to refocus, reprioritize and remember why we do what we do. Most of all, you're speaking life and hope to a child who desperately needs that reminder.
5. You can break the lie of poverty.
Poverty is a lie that says, "You don't matter." You help shatter that lie with every letter you send to your sponsored child.
6. You can bring stories to life.
Don't know what to say? Share photos — your kids, your pets, your last hike. Don't let the fact that your activities and experiences might seem foreign to your child, or that your home or clothes are nicer, keep you from sending photos. Your pictures help your child dream and explore.
7. You can make your child's day.
In many of our child development centers, receiving letters is a huge celebration. Imagine how special and honored your child will feel when reminded — in front of all his friends — that someone halfway around the world is thinking of him!
8. You can make God real.
Your words can help your child understand that God is real. As you remind your child that you are praying for him or her, share favorite Bible verses, and talk about your own faith journey, you're helping to shape your child's journey as well.
9. You can send more than words.
Did you know you can send a special gift with your letter? If it's lightweight and relatively flat, you can include a special surprise with your note: stickers, coloring pages, etc. Check out our complete list of guidelines.
10. You can make your child smile.
There's a certain type of smile that comes from genuine joy — from feeling truly loved. Each time you write, you're inspiring a smile. What are you waiting for?