In Uganda, the name "Makerere" is synonymous with Uganda's oldest and most prestigious institute of higher learning: Makerere University. The university sits on Makerere Hill and is not only revered for its students' academic proficiency and health education, but also for the spacious, manicured lawns and modern buildings that constitute this seat of learning.
In the slum community of Makerere Kivulu that lies in the shadow of this prominent institute, the storm drains overflow with filth and stinking water between rows of shacks made of planks and rusty iron sheets. The dilapidation of these structures is set off by the stable buildings surrounded by high stone walls that dot the area.
Many of the people in the community are unemployed, and even those who are employed are underemployed, dealing in small businesses like hawking goods, frying and roasting food like cassava, and selling vegetables like tomatoes and eggplants.
Most of them earn a maximum of about a dollar a day. In despair, many of the women look to prostitution to earn a living, and the men resort to alcohol and spend their days drunk. The youth form gangs and go about stealing and indulging in drugs.
It is this community that 13-year-old Brenda wakes up to every morning at 6 a.m.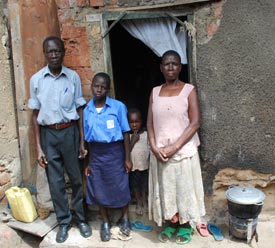 Brenda lives with her 70-year-old grandfather, Juliano, her 65-year-old grandmother, Violet, her uncle who is mentally ill, and three cousins.
Brenda's grandmother sells roasted maize, potatoes, grasshoppers and cassava in the market while her grandfather earns money as a shopkeeper. These sources of income sustain the family, pay the monthly rent for one room in a five-room house, feed and clothe the family, as well as pay school fees for the other children not registered with Compassion.
Brenda begins her day with prayer and then brushes her teeth. She dresses in her uniform bought by her grandmother, and heads off to school. She has to be at school before 7 a.m.
School is a 20-minute walk from home, so on school days she never has time to have breakfast. When she gets to school, she goes straight into class for the first lesson of the day.
Her first meal of the day is at 10:30 a.m. when class breaks for 30 minutes. Brenda's grandmother, Violet, gives her money for food at school every day.
Brenda often buys passion fruit juice and a doughnut. She eats these quickly so she can have 15 minutes to play with her friends before heading back into class.
Class breaks for lunch at 1 p.m., and if her grandmother has paid the fee required of each student to eat lunch at school, then Brenda goes to the school kitchen for lunch.
Lunch at school is usually posho (a kind of bread made out of maize flour and water) and beans. However, so far this term her grandmother has not been able to pay the lunch fee and so Brenda spends the remaining money her grandmother gave her for the day to buy a samosa (a small palm-size triangular snack made of a vegetable or rice or meat wrapped in dough), and this is her lunch.
She then uses the rest of her lunch period to play with her friends. She resumes her afternoon classes at 2 p.m. for two hours until 4 p.m. when she heads back home.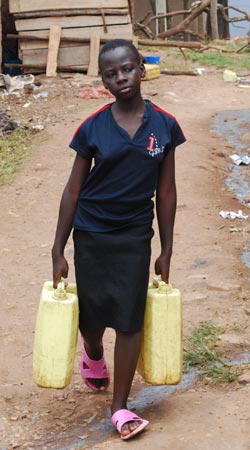 At home, the first thing Brenda does is to take off her uniform and fold it neatly so it will be ready for school tomorrow. She then changes into her stay-at-home clothes and goes to fetch water from the community tap nearby.
Brenda's home does not have clean running water, so the family has to buy water from the community tap. Brenda usually makes two trips for four 5-kilogram cans every day so the family has enough water for their needs.
After making sure there is enough water to last the family until she comes back from school the next day, Brenda helps her grandmother with chores in the house like cleaning the floor or washing the utensils.
She then takes a bath in the communal bathroom used by all the tenants of the building. The bathroom is made of old iron sheets and sackcloth to give the families some semblance of privacy.
As the sun begins to set at 6 p.m., it is time for one of Brenda's favorite activities: teaching her friends at home the Word of God that she has learned. They sit together outside the house in the company of the yard animals.
After this she heads off to watch television at a neighbor's home. Her favorite program is "Second Chance," a Spanish soap television series currently popular in Uganda. It's the story of a man given a second chance to change his life.
One hour later Brenda is back home, ready to settle down for the night.
She has her supper, which is usually whatever meal was left over from lunch. Brenda's grandmother cannot afford to cook twice a day because she spends most of her day at the market. So she cooks enough food for lunch and supper at once, and then divides the food into two for both the meals.
As soon as Brenda has had supper, she says her prayers and goes to bed to rest, ready to begin again the next day.
Brenda misses going to the Compassion-assisted child development center on Saturdays. Now that she is in secondary school, she studies at school on weekends.
However, she is comforted and looks forward to spending two days at the center each week during her holidays. During these holidays Brenda also has more time to help her grandmother at home with chores as well as spend more time with her friends.
Brenda wants to be a lawyer when she grows up so that she will be able to solve conflicts in her community.