Eliane was meeting her sponsor for the first time. The sponsor brought her many gifts: rice, clothes, a school bag and various toys. It was a special day for Eliane and her whole family.
Everybody was happy, including the sponsor herself. The critical moment of this day was the time of separation. The sponsor burst into tears and grabbed her sponsored child like a baby. Then she took her hat off and put it on the child.
This action moved me to tears. I saw through this visit a real love that one person can demonstrate to another to make a real difference.
God has given limits to everything except to His love. He so loved the world that He gave His only begotten Son to save mankind. This kind of love is boundless, and we cannot search its depth, width or height.
As Christians, God's children, we must also demonstrate the character of God, showing love to God and loving our neighbor like we love ourselves.
In 1 Samuel 18, we read that Jonathan, son of Saul, came to love David as much as he loved himself. He took off everything he was wearing and gave it to David, helping David become successful in all his missions for Saul.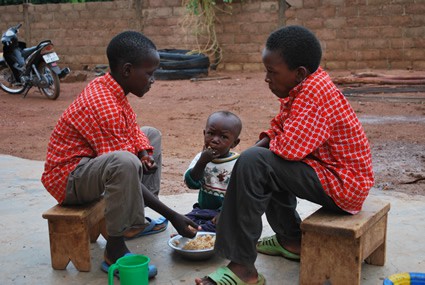 The best way to help one another succeed in our mission with this ministry is to love the children like Jesus loved His disciples — to the highest degree.
No matter what challenges you are facing, don't stop loving. Everything can fail, but love never fails because God is love. The powerful means we have to help others accomplish their dream is to love them. With love, we can change our world and make everything possible for the glory of God.
And Jonathan made a covenant with David because he loved him as himself. Jonathan took off the robe he was wearing and gave it to David, along with his tunic, and even his sword, his bow and his belt. Whatever mission Saul sent him on, David was . . . successful. — 1 Samuel 18:3–5a, NIV
Prayer: Father God, thank you for your unlimited love for us. Today we choose to trust you, knowing that you have poured out your love into our hearts by means of the Holy Spirit. Help us to manifest this love for the benefit of others, in Jesus' name.
---

ABOUT THE AUTHOR: Jean-Dieudonné Compaore works as a Partnership Facilitator for Compassion Burkina Faso.
Read all the One in Spirit devotionals.