Our child development centers are distributed in different types of settings in Mexico; the biggest difference is between urban and suburban areas.
In the context of this blog post, the terms "urban" is defined a bit differently than in the big cities of the developed world:
An urban area corresponds to small communities concentrated in cities with more than 10,000 inhabitants, with the majority of public services at hand.
The main difference between an urban and suburban area is in the communication and roads that provide all the supplies and raw materials needed for life.
The main cities are important areas of influence where the major cultural, political and government events take place. Great infrastructure, equipment and services are distinct. Drainage, water, pavement, electricity, schools, hospitals, parks and amusement parks are all found in cities. The main administrative and government offices are located here.
Organized commerce and industry provide most of the job opportunities, but there is a segment of the population that works providing services to the offices, homes and factories.
It is very common for these cities to have groups of such service providers establish their own colonies, our "urban" setting, which lack the same level of comfort or community services as the rest of the city. These communities grow and develop without much planning, and do not have services like parks or clinics. They are greatly affected by political turmoil, high food costs, and lack appropriate medical and school services and security. This is where we serve.
Drugs, gangs and a high rate of violence are terrible problems in these communities. Single mothers are also common, and children spend many afternoons wandering the streets.
Not many families own property. Rented homes are the common denominator here. Many times three or more related families crowd into small, rented homes.
Homes built and owned by families house a long line of working-class grandparents, parents and children who all have contributed with their labor to be able to share a small room. Homes are usually built, with small rooms, around a common patio, and have common facilities or restrooms. Families are very close, and the grandparents hold a high rank in the family hierarchy.
In many cases the common room serves as the kitchen with a big table, and other rooms are designated for each son and his family. Men usually stay home and bring their new families to live with the parents, and females normally leave their homes to live with their husbands and their husbands' families.
Parents usually have two to four children. Many times women are abandoned and either raise their children by themselves or continue building their family with a new husband.
Depending on the location of these urban communities, dress and attire vary just a little, but clothing is mostly informal, and there is a huge market of used clothes sold at very cheap prices at the street markets.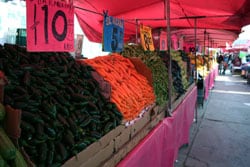 The communities are normally built around a big Roman Catholic church and a local market that supplies all the goods and supplies for families. It's an open market, with fruits and vegetables, grains, meat and many small stands that sell everything the community could ever need.
Most families base their nutrition on grains like beans, rice or lentils, soup and sometimes eggs or chicken.
Transportation is usually provided by either buses or smaller vans modified to carry up to 15 people, and they are usually very crowded, especially in the mornings when adults and youths go to work in the cities nearby or to pursue higher education.
Examples of child development centers found in areas like this include:

ME-703, 708, 711, 741, 770, 785, 788, 789, 825, 839, 880, 912, 919, 922, 934, 935 and 936.
Lentils Recipe
Place rinsed and inspected lentils in a large pot with chicken broth and let it boil.
Once boiling, add onion, garlic and cilantro, to taste.
Reduce heat to medium until lentils are soft, about 12-15 minutes,  depending on type of lentil used.
If necessary, add more water or chicken broth to attain the consistency you prefer.
Salt to taste.
Serve hot with garnish of chopped cilantro, onion and small tomato cubes.
In the southern part of Mexico lentils are first boiled with salt, and then after frying tomato cubes, onion and garlic, they are added into the pot. In this case, they are also served with slices of banana.
Mexican Rice Recipe
For one cup of rice, heat the oil in a medium saucepan and fry the rice, stirring, until it starts to brown.
Add the garlic when the rice is nearly browned.
Add the water, then the mix of tomato, onion, salt and garlic. Mix well. Cover partially and turn the heat down to medium low.
Cook the rice for 20 to 30 minutes, but check after 20 minutes to see if it is ready. You do not need to stir the rice or lift the lid while it cooks. It is ready when the rice is fluffy and all the water is gone. If it is still sauce-like rather than dry, cook a few minutes more.
Adjust the spices to taste, and serve hot as a side dish.
Grandmothers say to usually use about twice the amount of water to rice. So in this case, one cup of rice cooks well with two cups of water.
In some places they eat rice topped with a fried egg, with bananas or avocado.