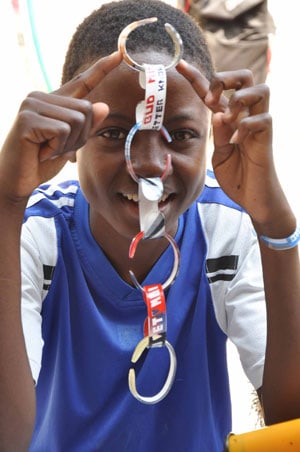 Enock, who is currently 16 years old, was 6 years old when he became a Compassion-sponsored child. It was just a couple of months after his father passed away.
Enock's father was a subsistence farmer and the sole breadwinner in the family of seven people. Enock's mother, Mimose, is a resilient woman with a strong faith in God, but she found herself helpless with six mouths to feed on her own. She was not able to provide daily food for her babies, much less send them to school or take them to hospital when they were sick.
Living in the country Mimose had only two choices when she became a single parent: farm or move to another community where she could find something to do for income to support her family. As Mimose was not trained to handle any farming tools, and as none of her babies were strong enough to replace their father as the breadwinner, Mimose chose the second option.
With the hope of being able to find a better life, Mimose and her children took refuge in Martissant, in Port-au-Prince. When talking about Martissant, it is important to mention that it is one of Haiti's largest slums. It is an area with an overwhelming rate of juvenile delinquency, where many children are involved in gang activities, prostitution, rape and crimes of all kind.
By choosing to live in Martissant with her children, Mimose knew for sure that she and her children would be exposed to many dangers, but she had no choice. As a woman of God, she was in constant prayer. She had many concerns because she wanted to raise her children to be different, which isn't easy for a single mother living in a such area.
Enock was first registered with Compassion in his native community of Lazile. He didn't know if there was a Compassion center in his new area.
One Sunday morning, Enock's family headed to the Baptist Church of Martissant. On that Sunday, Enock learned for the first time that there was a Compassion center ministering to the Martissant community. The next day, Enock and his mom rushed to the center to get some information.
As there is only one Compassion center ministering to the whole community, being enrolled is not easy, as there are always hundreds of children on the waiting list. But Enock's mother told the center director that her son was already a sponsored child and that he just needed a transfer.
Enock and his mom were provided with all the information they needed to start the transferring process. After getting all the information, Mimose, who is really a very strong mother, quickly started the process.
I was so happy to be integrated into the program again. But I felt much more excited to learn that I could still have the same sponsor despite the fact that I moved to another center that is so far away from the one where I was first registered.
I couldn't even contain my tears when I learned that the transfer process worked out. I felt so relieved to know that Compassion can help me raise my son to not become a bum as many other boys his age in the community.
As it is ministering to an urban community, the Enock's new center operates differently from his old, which is ministering to a rural community. Development centers in the urban communities offer many more opportunities for the children to learn skills. There are many more activities, and many more children.
Enock is offered the same opportunities as the other sponsored children his age, but he has also has a goal to achieve as a fatherless boy, to replace his father as the breadwinner in his family.
Enock always shares with his siblings that he is the one who will take over from his father as breadwinner. He says that he always feels uncomfortable when he sees his mom crying when there is nothing at home for them to eat. So, Enock decided to take plastic art classes as part of the vocational trainings offered by the center.
After attending just a few classes, Enock was able to design his first bracelet with his mother's name written on it, which amazed even the teacher. When class was over, Enock's classmates started asking him to make bracelets and necklaces for them, for money.
Day after day, Enock had more and more customers. There were many other pupils from other schools who also bought Enock's bracelets. Enock was on the right track to achieve his goal.
His mother testifies that one Saturday when she didn't have anything at all in the house to give her babies, when she felt so desperate and depressed, Enock handed her a $100 Haitian bill that he got from selling bracelets and other things he had made by hand.
It was like Jesus coming down to the Earth that day. I will never forget that day, as it was on that Saturday that I came to realize the meaning of a Bible verse that Enock's brother had shared in a letter. It was Jeremiah 29:11.
Not only has Enock replaced his father as the sole breadwinner in his family, he doesn't just help provide food, he helps his brothers with their school fees and school items. He even pays for a computer class for himself and his older brother.
Enock says his whole family is very thankful to Compassion. Every time they pray, they lift up Compassion, and they never miss an occasion to say a prayer for his sponsor.
As a little boy, Enock has big dreams. He wants to become an entrepreneur to help create more jobs in his country. He prays that God continues to make way for him so that one day he can build a decent house for his family in better place.