Abandonment, hunger, solitude — Cristiano has been through tough situations in his life and now his experiences are the foundation of his job as a Partnership Facilitator in our Brazil office.
A Partnership Facilitator (PF) is responsible for overseeing all issues related to the partnership between our ministry and the partner church. A Facilitator works with the partner church in a very professional and respectful way in order to:
make sure they have the same vision and goals,
build respect and mutual trust,
promote shared commitment, and
establish the function, expectations and responsibilities in a very clear way.
Cristiano has been a Partnership Facilitator since 2008. His main function is to make sure that all the results we strive to achieve really happen.
As a teenager, Cristiano was asked to leave home because he had abandoned his father's dream for him to become a famous soccer player. This resulted in mistreatment from his father, so young Cristiano lived in the center of Recife and had to sleep on the street with nothing to eat.
"I used to go to the supermarket and use the deodorant and other product samples for my personal hygiene."
He used to say to himself, over and over again,
"I'm not a thief. I'm not a thief."
Cristiano's life is filled with the small victories that God saves for those who remain faithful to Him. For example, Cristiano worked hard to get a job as a janitor at a midsize company. In six months, he became the local manager.
Cristiano's father had had a plan for his son to be a soccer player. But God, Cristiano's heavenly Father, had another plan. Now Cristiano is one of the coordinators of the Brazilian Sports League, a Christian organization that uses sports as a tool for evangelism.
Through this work, Cristiano helps churches implement evangelistic sports projects. (Brazilian people love sports!) Thousands of lives have been reached — and many of them are children.
"When I'm at a child development center, I look at the children and I know exactly what they need, because I have lived in hunger, abandonment, neglect and solitude. I know and understand why God allowed me to go through all these things."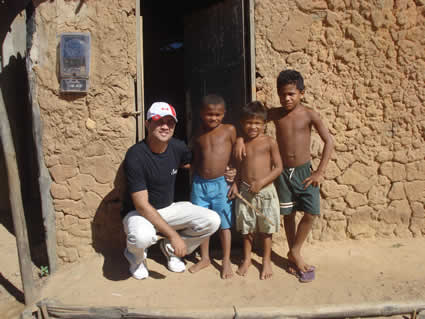 Cristiano's life story is unique and inspiring. He loves his job and knows that he was chosen by God to help release children from poverty. Here is more from a conversation I had with Cristiano:
How did you hear about Jesus?
I was a teenager and crazy about soccer. My big idol was Silas. He was a World Cup player (team of '86 and '90) in Brazil. One day I was reading his book, and at the end of the book he invited the readers to join the team of Jesus. He was a Christian, and I didn't know that. I was curious:
"Who is Jesus? Why is Silas talking about Him? Why is this Jesus so important that 'the great Silas' wants to praise Him?"
So I looked for Jesus in the Bible, and I found Him. I realized that soccer was not the reason for my existence, but the Lord Jesus was this reason.
And then you had to leave your house because your father was persecuting you?
Yes, my father had lived all his life planning my career as a professional player. After I became a Christian I lost my motivation for that because I saw that life was not just about soccer. I understood that God had another plan for me. My father was frustrated and said I should leave the house.
How did you start working for Compassion?
I heard about this job opening and I sent my resume. I participated in interviews and I was not called for the job immediately, but I was sure that I would be called one day. I knew that God had prepared me all these years to work with Compassion. I waited for a year to be called. I was sure that they would call me.
Why did you wait for so long without looking for another job?
Working for the growth of the kingdom of God was always a goal for me. When I heard about the ministry's mission I prayed,
"Lord, this is what I want to invest my life in. Give me this privilege."
And how did your family react?
Our financial situation was complicated, and they were putting lots of pressure on me. But I was convicted that God had chosen me to work at Compassion and that conviction was greater than the difficulties we were going through. I waited in faith. Now it's been two years and six months that I have been serving in the ministry.
Tell us about your job and your daily life.
I usually wake up at 5:30. I prepare everything the night before — clothes, materials, plan of visits, the schedule for the day. I usually go to the child development center by bus. It takes about 50 minutes to get to the center in Recife and two hours to get to the centers in João Pessoa. I always visit one development center a day and answer emails during the intervals between the visit and when I'm working from home.
When I'm working from home I have many activities such as preparing plans for the facilitation visits of the week; answering emails; calling the centers to talk about partnership issues, disputes, and so forth; and studying facilitation module and curricular programs.
What do you most enjoy about your work?
When I'm at the child development centers and give them some individual attention. I interact with the team of the center, the children and families.
Share an experience or situation that you witnessed that really touched you.
On my first visit to the development center, Vida VI, I saw a 2-year-old child playing alone in the trash — no clothes, and completely dirty. I was touched by that. That's where the church of Christ comes and fulfills its role in society. Such scenes are becoming increasingly rare.
What does releasing children from poverty mean to you?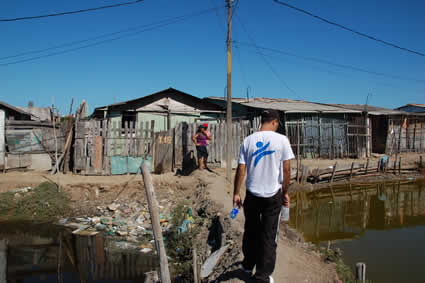 It means looking at the situation of each child who lives in social risk and seeing opportunities. Releasing children is being compassionate, acting intentionally, doing the best I can to provide real opportunities for them to become responsible adults and authentic Christians who will make a difference in this world.
How can you see God's care in your life?
God's love overwhelms me. When I was in pain I had the best experiences with God. I could see the greatness of His love. I feel His care everywhere. In spite of the suffering and all I have been through, He was always by my side and helped me right when I needed Him.
What motivates you in your work as a Partnership Facilitator?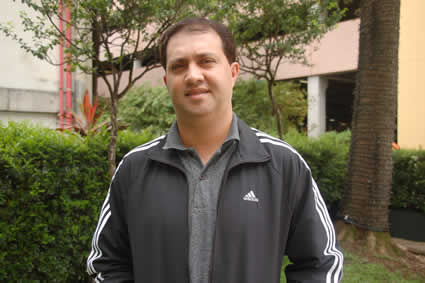 Knowing that I am an instrument in God's hands to help the church of Christ rescue an entire community that may not have a perspective for the future, that is full of children and young people with no opportunities in life.
Would you like to say something to the sponsors?
Sponsors, never stop being a blessing in the lives of the children you sponsor. Keep praying for them. You are so important to them. You are instruments of God in their lives.
"For I know the plans I have for you," declares the LORD, "plans to prosper you and not to harm you, plans to give you hope and a future."    — Jeremiah 29:11 (NIV)