Recently, a great privilege and opportunity came my way. As it goes in the workplace, something happens or someone leaves, and all of a sudden you find out you have a new project on your hands.
My project was the first-ever Wess Stafford Moody Bible Institute scholarship that was awarded to three of our Leadership Development Program* (LDP) graduates.
Oh yeah, my name is Celina, and I work in marketing on the events team. Working with LDP graduates was a little out of my realm of expertise, but I was up for the challenge!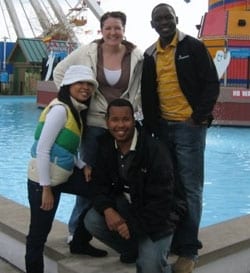 As I was being told about my role, three LDP grads –- Michelle Sheba Tolentino (Philippines), Richmond Wandera (Uganda) and Tony Beltran Morales (Dominican Republic) were headed to the United States, and nobody could really tell me what my role was actually going to be.
Everything with the Moody scholarship program is brand new territory for us. In the beginning, my job was to ask a whole lot of questions. And now, I realize that my job has been to break ground.
I don't consider myself good at ground breaking, but every job I have had for the past 10 years has involved some sort of ground breaking. I don't really like it. But I must be good at it because God keeps assigning me to it.
Anyway, the Moody scholars are here and have been for four months now, and I have to say that I think they are the most amazing people in the world!
They are smart; way smarter than me. They are kind. They are funny. And they know an aspect of God's character that I will never know in all my days on this earth.
Why?
Because little children see His face, and although Michelle, Richmond and Tony have overcome poverty, they have seen His face in their darkest moments and lived to share it.
I have never met an LDP grad that hasn't remained childlike in the best way.
I've met a student whose father was murdered. I've met students called ugly and useless by their families — rejected and scorned — and have all seen His face. And overcome.
The Bible says that we overcome by the blood of the Lamb and the word of our testimony.
Now, these three LDP graduates are earning masters degrees while sharing their testimonies all over the United States and Canada. They are overcoming, and we are blessed to be a part of it!
*This content honors our historical Leadership Development Program. To learn more about our current youth development opportunities, click here.