This is the story of how our beloved president, Wess Stafford, traveled to Washington D.C., rubbed shoulders with the mighty and powerful and still managed to return home the same humble man that we adore.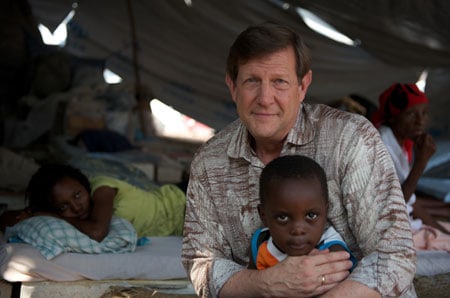 Take it away, Wess.
So where to start . . . ? The first thing that surprised me about visiting the White House was how little security I had to go through to get in. It was easier than boarding a United flight — I didn't even have to take off my shoes! (Actually, I'm sure they did their homework in advance.) It was really amazing though to just walk freely through the hall to the East Room, past all the famous pictures — just like you see it on TV.

After waiting at the door for my arrival to be "announced" (I was known as "Dr. Stafford" for the evening.), I noticed that everyone who entered after me all had titles of "The Honorable" and "His Excellency" and such.

It seemed like most of the other guests were accustomed to this kind of formal event, and I was feeling pretty out of place, until I noticed another equally-miserable looking fellow across the room. I introduced myself to him and was thrilled to learn that our organizations had a lot it common. We had a nice, lengthy conversation, and when I finally turned my attention back to the room I realized that it was now full and that President Bush himself had arrived. It was so strange to be right there in the same room with him!

Next, each of the guests was announced again as we individually entered a private room with President and Mrs. Bush and President and Mrs. Kufour for a brief visit and a photo. I wish I had given more thought to what I would say to each of them, but I kind of had to wing it.

The first person in the line was President Bush. I thanked him for his leadership and said, "I don't know if you know this or not, Sir, but your dad sponsored a little boy from the Philippines with Compassion. And he wasn't just a sponsor, he was a good sponsor — he wrote letters in his own hand to his sponsored child.

Of course, there were special safety concerns with this sponsorship. For instance, if the wrong people learned that a former President of the United States was sponsoring this little guy, he may have been kidnapped and held for ransom. So we asked your dad to not to mention his 'career history' in his letters. This led to some interesting correspondence.

In one letter he included a photo of his little dog and told the child 'she knows lots of famous people.' In another letter, after you became President, he mentioned that he would be spending Christmas with his son, 'who lives in a big white house.'"

As I went down the line I thanked Laura Bush for being such a champion of children. I told President Kufour that, although we've only been in the country of Ghana for a few years, we have chosen to place our West Africa Area Office there because of the country's stability.

I also told him that our staff in Ghana have told me how loved he is by his people and that they would elect him for another term if they could. I thanked him for demonstrating that power can change hands in Africa with dignity and grace.

Next, I spoke with Theresa Kufour. I had learned that she had been a midwife, and I thanked her for all she had done to love and care for children. After the photo was taken and I was beginning to leave the room, I was surprised to hear President Bush call out after me.

He said, "I know I've just met you this evening Doc, but I love your heart!" Now, he may have said that to everyone that evening, but it sure meant a lot to me!

After the photos were taken we made our way to the Lincoln State Room, walking past a huge orchestra along the way!

This was a dinner like none I've ever attended. There were five forks in the place setting. (Thankfully I remembered something about starting from the outside and working in toward the plate!) There were more goblets and glasses than I knew what to do with, and a huge, elaborately rimmed dinner plate.

The plates must have been 18 inches across. They were huge — too big to fit in my tux jacket. I know, because I tried! 🙂

From where I was seated, I could look straight ahead and all at one time see President Bush, Vice President Cheney and Secretary of State Condoleezza Rice. It was just surreal to be looking at all those famous faces — I felt like I must be in a wax museum!

During dinner I was seated next to a delightful young lady named Elizabeth. I noticed that the last name on her name badge said "Cheney," but I decided not to bring that up unless she did.

It turns out that she studied Political Science at The Colorado College in Colorado Springs and has traveled to Africa through her former work with the U.S. Agency for International Development. So we had a lot to talk about with our shared connections to both Colorado Springs and Africa. In fact, I almost got her in trouble by causing her to laugh hysterically just as President Bush was ready to begin his speech!

After both leaders had given brief talks, President Bush announced that he had a surprise for us and asked us to join him in the Rose Garden. (As we were leaving the Lincoln State Room I had the opportunity to speak briefly with Condoleezza Rice and tell her how much I appreciated her courageous leadership during difficult times. I was surprised by how petite she is in real life and by how genuinely engaged she was in our conversation.)

When we arrived in the Rose Garden — it was the most perfect, calm evening that you can imagine with the smell of roses in the air — we were treated to a performance by the cast of "The Lion King." Then as I was leaving the Rose Garden, I felt a tug on my sleeve and turned to find my friend from dinner saying "I've got to introduce you to my dad!" So, Elizabeth took me directly to Dick Cheney and told him that I'm from Colorado Springs, and so on. Can you imagine?! What an evening!

But there is one more thing that I think you'll be interested in hearing.

After I returned to my hotel, I decided to take a stroll to a convenience store around the corner. (I like to have milk and cookies before bed . . . even after the amazing food that was served at the White House!)

As I was walking I heard a voice ask, "Are you having a nice evening?" When I turned to see who was speaking to me, I saw a young homeless man standing there. I answered, "Yeah . . . I'm actually having a pretty amazing evening!" We spoke for quite awhile, and he told me about his situation — the mistakes he knew he'd made in his life and his future dreams. I shared with him that God can redeem anything and had an opportunity to pray with him before we parted ways. When I returned to my hotel room I was up for hours trying to process all that had happened that evening. I was just overwhelmed by God's goodness.

In a matter of hours I went from the company of powerful world leaders, in whom I could sense God's presence, to this young man on the street, where I also distinctly saw the spark of God. It was such an amazing contrast, yet such a unifying experience. We all have the same value to God, and He loves us all equally, no matter what our circumstances are. What an awesome God we serve!"
How did this all come about?
Wess was as surprised as the rest of us to hear that he'd been invited to a state dinner at the White House. He says he was shocked to arrive in Washington D.C. and learn that he was supposed to attend a state dinner and not a "steak" dinner. It's a good thing he has a smart assistant who insisted he squeeze this trip into his schedule and twisted his arm to rent a tux. 🙂
This was the sixth (and most likely the last) state dinner hosted by President Bush. The dinner was held to honor Ghanaian President John Kufour and his wife, Theresa, and to celebrate the strong relationship between the two leaders, which has been solidified by Ghana's commitment to free-market economics and democracy and President Bush's support of U.S. aid to Africa.
Compassion has been ministering to children in Africa for decades and began working in Ghana in 2004.
President Bush described his dinner guests as "compassionate people" who care about Africa's future. We're assuming that Wess was honored with this invitation through a White House staffer's diligent research of organizations that are making a positive impact in Ghana.