It's 5 a.m., in the midst of complete darkness, and members of the Pentecostal Church of God in Batey Magdalena are gathered in one of the dusty streets of this sugarcane-cutting community. Worshiping the Lord, they pray for spiritual healing for their people.
Claudio, now a civil engineering graduate through our Leadership Development Program, is in charge of leading these gatherings.
As he was leading the group one day, the area's most-feared voodoo leader came after him with a machete. The man shouted death threats and claimed that "those prayers" bothered him. But as he raised the machete to attack Claudio, the man's body began to tremble and he collapsed to the ground. His sons picked him up and took him home.
Despite threats Claudio faces while doing street ministry, he persists. He is accustomed to overcoming obstacles.
During his early years, this young adult's life was similar to the lives of many other children in Batey Magdalena: He and his twin sister were being raised by their uncle while their mother, Clarissa, worked on another island.
Then his mother returned home and, to better support her children, she began to make iced drinks, corn pies and fried wheat goods. Claudio sold trays of these goods and iced drinks to the community.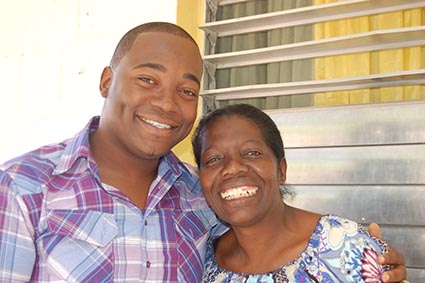 He learned at a young age that hard work and determination would help him accomplish his goals.
In his last year studying civil engineering, he flunked the exams in two classes and passed one class with a very low grade. He was called into a meeting with our country office director, Kleber Isaias Lora Bautista.
"I remember when I was called to Kleber's office, I said to myself, 'Well, in this lap, I'm out.' But Kleber said, 'Let's do something that I have never done before. I'm going to write a letter so that you can get a time extension.'

"He said, 'Claudio, I know that you are going to finish well; I know that you can.'"
Claudio was able to feel the grace of God in this time of trial.
"When I left that office on my way home, I felt as if my heart was crying, like when you feel a pain, but also gladness in the middle of that pain.

"I made the commitment, 'In this lap, I'm doing the right thing!'"
Writing letters with his sponsors was also an important encourager in the midst of this adversity.
"They told me that I shouldn't be worried, that even though I had problems, they believed in me anyway.

"Wow, I failed them and even then they were telling me to keep on, that nothing serious was happening. In fact, they said, 'We don't care if we have to spend four more years paying your university.'

"They are really an example to my life. They are my Good Samaritans."
Throughout his life, Claudio has had to cope with socio-emotional challenges. During his years at the child development center, Claudio felt sad to hear the tutor call out his name: "Claudio Moises."
While other children had two last names, their paternal and maternal last names, Claudio only had one.
When he and his twin sister were 17 years old, they were able to meet their father for the first time. Soon after, they were granted legal papers with their father's last name.
Claudio remembers one incident that made him extra-determined to succeed in life. It was something his father said during the week he spent with them.
"My father said a few words, which were intended to make a negative mark on me, but which I took positively to myself.

"He told my mother that among his children, my sister and I were the only ones who were behind in education. That hurt like nothing else had ever hurt. I cried a lot."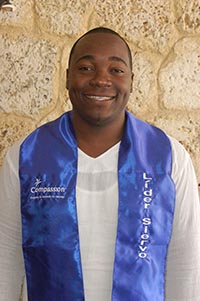 Every time Claudio got discouraged in school, he said to himself,
"I'm going to show my father that we are not what he said!"
Despite the support he received from our staff, his sponsors and his church, those hurting words didn't stop pounding in his ears.
"In fact, on the gratitude page of my thesis, I thanked my father for those words."
At present, Claudio is leading a foundation that has the mission of eradicating illiteracy from communities in the Dominican Republic. And he is willing to to use his income as fuel for this ministry.
"When I was small, I said, 'Wow, look at that bridge!' And when I saw construction workers, I said, 'I want to wear a helmet like that on my head!' I wanted to be one of those who build roads and bridges."
His willingness to help others has been the fuel to go from one step to the next in his development.
Helping his mother in the family business prepared him to become an entrepreneur.
When he was an adolescent, he became an informal banker to help his neighbors save some money. He was given some profits for helping them. With those profits he was able to purchase a motorcycle, which he used to travel to the university.
As time passed, Claudio owned a clothing shop, which was a prosperous business.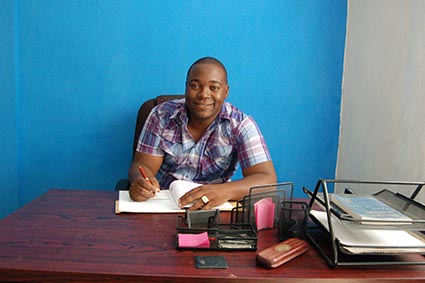 One day he saw how a friend of his was unemployed and couldn't provide for his wife and children, so Claudio invited him into his business. Claudio created a phase-out plan so that he would receive his invested capital back and his friend would end up becoming the shop owner.
With the capital he earned back from his friend, Claudio bought a 36-passenger bus that is used in a transportation business in Santo Domingo.  So far the business is earning good profits.
In addition to his businesses, Claudio continues to be in charge of the early-morning meetings in the streets of Batey Magdalena. He is delighted to see the fruit of the church ministry. He rejoices to see some former voodoo leaders become Christians and active members of the local church.
"Since I was small, God has put a passion for souls in me; that's why I like to preach. When I see a life coming to God, that's my greatest joy."
---
Students like Claudio need our support. Will you prayerfully consider helping a student finish well?