Sooner or later, we're all programmed to struggle with legacy and impact. Each of us is keenly aware that we've been engineered with talents and abilities to contribute to the world in some way while we're here.
I don't know about you, but I get frustrated sometimes that someone didn't hand me a personalized instruction manual for how I'm supposed to use my specialized gifts to make a difference.
And sometimes, I am anxious that I could be missing something — that there's something I should be doing but am not. All the while, time is slipping away and I'm not realizing whatever that particular thing is.
So, I've dipped my toe into different ministries and experiences over my adult life and discovered a few things:
I love honoring God with my creativity (whether it be through singing, sketching, photography). I enjoy encouraging people, especially through writing. And I love…no, I adore working with ministries in Kenya.
I was hooked after my first trip there with my church, a trip that had involved working with women and children, and especially orphans. There was something about the authenticity of the smiles I encountered there…and something about Kenya itself — the way the sunlight hit the dust particles in the air, giving the place a warm glow that captivated me.
Upon my return home from that first trip I sought a way to be connected to the place I connected with so very well.
So I contacted Compassion and selected then-14-year-old Betty, who lives in Mombasa, Kenya, for sponsorship.
Betty is an orphan who is being raised by a great aunt (whom she calls her "grandmother") in a home with many other children.
In her sponsorship photo she appeared tall, gangly, and a little uncomfortable in her own skin, not unlike how I was at age 14. We exchanged letters and kept one another current on favorite activities, hobbies, scriptures, and family happenings.
I saw a need, took action, and began to feel forward motion in this drive for wanting to impact the world in a positive way.
Nearly two years later I found myself preparing for another Kenya trip to serve with a team from my church… and to meet Betty. I was eagerly anticipating our visit, but upon my arrival in East Africa, Compassion representatives gave me a heads up about an unforeseen circumstance: Betty was six months pregnant.
As I processed this information, several questions began to burden my heart.
Would she know that I knew about her condition? What were the circumstances surrounding her pregnancy? Would she be able to remain in the Compassion program? Would these years of correspondence and continuity be a waste if she weren't able to stay?
A wave of concern about her well-being washed over me and, again, a sort of unsettled uncertainty. I struggled with my role and how I could help, unable to wrap my mind around how this impending visit would go.
Prior to my arrival in Mombasa, I was able to find out that Betty wouldn't identify the father but had revealed he had left her. My other questions were left largely unanswered for the time being.
Days later, I found myself walking through the gates of Betty's child development center with two of my pastor friends. My enthusiastic hosts ushered me into an office, and suddenly Betty was before me.
Instant recognition, hugs, and tears. Time politely paused for us as we took the moment in, and I felt an assurance that everything would be fine with this visit.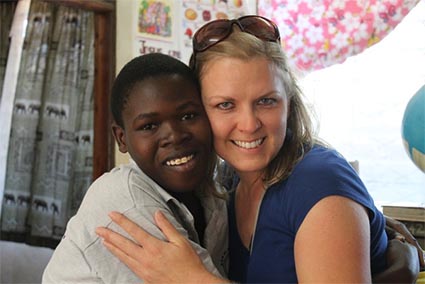 At the development center Betty, whose height and baggy polo made her pregnancy barely noticeable, seemed very reserved and didn't say much, despite her fairly strong command of English. We departed to spend the afternoon at her home, where Grandmother, a host of extended family members, and a long table overflowing with celebratory Kenyan fare greeted us.
Our entourage of Compassion representatives and Betty's extended family kept lively, joyful conversation going. Activity was everywhere. Children ran amuck. An errant chicken that wandered into the house hopped up on a chair arm and scurried out the window.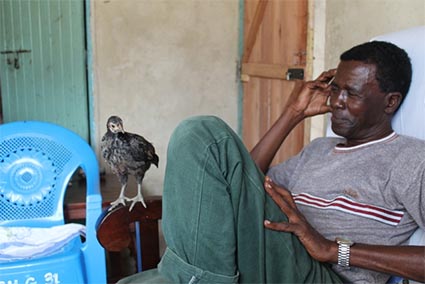 But, despite all this energy, Betty and I quietly sat in the corner, our potential for connecting stifled by the noise.
I wanted to be able to connect with her and have a meaningful conversation, but I wasn't sure what I could say, especially with an audience. Betty appeared uneasy, a shy face processing a sea of busy activity.
So I pulled out a small book containing pictures of my hometown, friends, family, sunsets, cycling and horseback riding adventures. We also scrolled through photos on my iPhone.
Betty was particularly interested in photos of my friend Dorothy with her baby — years before I had sent her a photo of a smiling Dorothy, with her husband's hands resting on her pregnant belly. These new-to-her photos seemed to warm our interaction.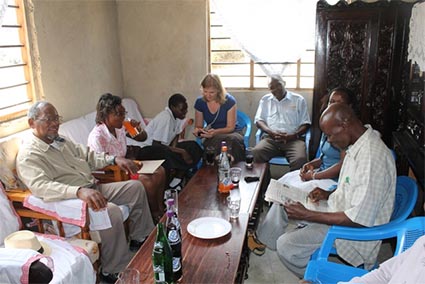 Next, I tried singing. I told her there was a song I'd learned on my first trip to Kenya and was still trying to master. It goes:
Cast your burdens unto Jesus,
For He Cares for you.
Cast your burdens unto Jesus,
For He Cares for you.
Higher, higher … higher, higher, higher, higher
Higher, higher … higher Jesus, higher.
Lower, lower … lower, lower, lower, lower
Lower, lower … lower Satan lower.
A collection of ridiculous hand motions accompanies this song, and the refrain sounds particularly silly if you sing it in anything but a Kenyan accent. Betty grasped my hand and stopped me in my miserable rendition, and with a huge smile and nervous laugh she quietly sang the refrain for me.
In the front of the photo album I wrote down the accompanying verse for that song: 1 Peter 5:7, and said to her, very emphatically, that this song and verse were something she could take heart in during the coming months if things felt uncertain:
"Cast all your anxiety on Him because He cares for you."
She sheepishly smiled and seemed to relax, but pensively turned her eyes away from me. If she hadn't been aware of my knowing about her pregnancy previously, she knew then and recognized I was not relinquishing my support.
Had she been harmed? I wasn't able to confirm either way, and that unanswered question weighed on me for many weeks following my visit. I'm aware of the dangers of living as a fatherless young woman in a crowded, impoverished community.
I chose to trust the story about young love lost, and focused my prayers on emotional healing and physical well-being. Someone from her development center assured me she would be able to remain in the program and that she would be eligible for assistance with her baby.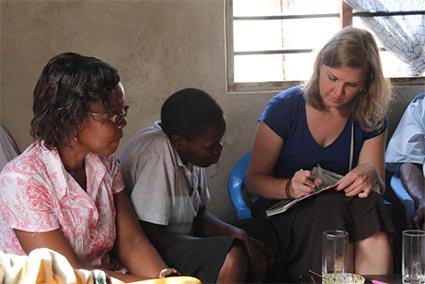 But back to the chaotic living room. As we concluded our visit with a hundred "snaps" (the entourage taking photos) and several public presentations of gifts, Betty gave me a beautiful collage of stickers, drawings, scriptures, and quotes that she had made for me the previous day, when she had learned I was visiting.
In the very center of the handiwork were the words "He cares for you" and "Thank you for supporting me and my family. These framed the same verse of scripture 1 Peter 5:7, carefully written in bright yellow script.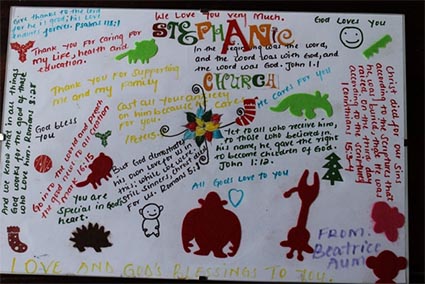 "Cast all your anxiety on Him because He cares for you."
Turns out that we both needed to hear these words. Betty was alone, carrying a child, at an impasse in her life, and, as a guarded paragraph of a letter later revealed, considerably overwhelmed with her situation.
I was uneasy, spinning my wheels, at a loss for knowing my purpose, and concerned that I was somehow missing the point of where God wanted me to be and what I was to do.
True impact became clear to me in that moment — it's most certainly not about me or my influence or what I check off on a to-do list to be a world-changer. It's about God making an impact in and through me — through each of us — when we make ourselves available to one another.
He uses every single moment and interaction; no experience or stretch of time is wasted. And this impact He orchestrates is not bound or dictated by age, position, poverty level, or geography.
---
ABOUT THE AUTHOR: Stephanie L. Church is editor-in-chief of a horse health publication based in Lexington, Ky. A two-time visitor to Kenya, she has a heart for women and children in Africa and has sponsored Betty through Compassion since 2009. Stephanie blogs at stephanielchurch.com.