Children wearing thin T-shirts fiercely guarded the sprawling stone entrance to the Forbidden City. Some no higher than my waist, but well trained in the art of begging, they could spot a tourist a mile away.
They gathered in droves, glazed brown eyes darting from me to other possible dollar carriers. Their small, dirty hands patted my arm and hungrily opened and closed in front of me like they were grasping for a better future.
I hated myself for not wanting to make eye contact. But even more, I hated the thing that reduced these precious little ones to professional beggars — poverty.
Life gave them no chance. They had most likely been born into poverty and, unable to gain an education, were trapped in a ruthless spiral to do whatever it took to fill their tiny tummies.
The injustice breaks my heart. Why them? Why a child, who should be protected, safely playing and learning, instead of sniffing glue to escape the hunger and hopelessness?
Sometimes the problem of poverty seems impossible to stop, as if parts of the world are being consumed — poverty eating it up like a monster on the loose.
Yet hope remains. I am encouraged by Lamentations 3:22-23:
"Through the LORD's mercies we are not consumed, because His compassions fail not.
They are new every morning; Great is Your faithfulness."
The monster of poverty will not consume all. God's mercies shield; His compassion protects. And it is compassion that drives us — drives me — to act.
Tomorrow is Universal Children's Day, a day observed by many nations to honor children, and to promote the basic welfare of children across the globe. Basic objectives are to protect children from exploitation, to ensure they have access to education, and to reduce the spread of diseases among them.
It was established in 1954 to outline children's rights throughout the world. The intention of the observation is noble, and I am encouraged that many countries are committed to protecting children.
For Compassion International however, every day is Children's Day.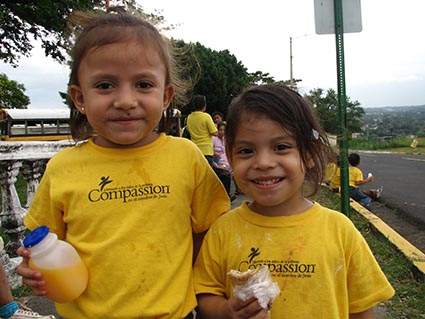 Each new morning Compassion fights to release children from poverty by offering an ongoing holistic care approach.
Giving money to the kids who pleaded with me and crowded me in China would not have greatly improved their situation, but I am grateful I have the opportunity to provide another child the education and basic care that could prevent him or her from slipping to such a station.
By sponsoring a child I am taking a whack at the poverty monster and giving one precious little soul the chance to climb out of its grip.
Tomorrow, on Universal Children's Day, please join me in praying for children all over the world who desperately need to know that there is a God Who shows unfailing mercy and compassion.
And if you don't already sponsor a child, it would be a great opportunity to take that step. Join me tomorrow in celebrating God's compassion for children.
---
ABOUT THE AUTHOR: Evelyn Rennich is a Compassion sponsor who loves being mom to two young boys. You can read more from Evelyn at Smallish.