We never know what we are going to experience on a Blogger Trip.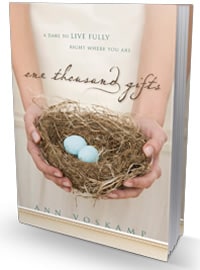 Certainly each day is planned out — Child Development Center visits, meeting sponsored children for the first time, home visits — but there is often something special that occurs that touches the heart of a blogger.
Author and blogger, Ann Voskamp had one such experience on the Ecuador Blogger Trip.
You can read her story below. Oh and, you may want to pull out a kleenex or two before you start reading.
The prize for this week's Blog Month winner just so happens to be a copy of Ann's book, One Thousand Gifts.
Did we say yet how much we love Ann?
Lastly, this week's Blog Month assignment is posted and ready to go!
Maybe you'll be the next blogger to go on a Blogger Trip with us and have an experience like Ann.
---
From Emanuel Student Center (EC-273) in Ecuador.
We find Jonathan in the jungle, off the banks of the Amazon. He's fifteen.

He is scared. He shakes like a thin leaf in wind.

"My mother, she runs out on us when I was four." He tells the translator this.

His voice's a whisper, not even a ripple.

"I do not know where she lives." I don't need translation to know his fear, hear how his voice quakes.

"I have seen my mother only once in my life again."

Jonathan keeps twisting his own hands, a wringing out of pain.

"My father, he leaves the city when my mother runs out. He brings us back to the jungle, so my grandparents can help us live." A skinny hen clucks behind him.

"But there is no work for him here and he goes up the river to work at a village." Jonathan glances out towards the Amazon.

"So, his grandparents are still here?" I look towards the translator —

The translator repeats the question in Spanish.

"No." Jonathan shakes his head. "No grandparents anymore."

I am trying to understand. Make sense of this.

"So you are here alone?" I glance up at this hut propped into sky. At all this jungle.

"My father, he takes my brother with him when he goes."

I nod slow.

And why not Jonathan?

"My brother is my Father's favorite."

"My father tells me to stay here. My father leaves me alone here."

Something flashes – and I understand. And I don't at all.

Someone named him Jonathan — but no one loves Jonathan like a brother.

No one loves him like their own soul.

Jonathan is a boy abandoned in the jungle. And only for a moment —

I am looking into the whites of his eyes.

How do you turn away?

What do you say to a son right between the ages of your two oldest sons, a son with no courage left, both halves of his heart leaving him here at the edge of the Amazon river – the river streaming on without him?

How do you abandon a child to poverty when you've looked right into the begging whites of his eyes?
Read the entire post by Ann Voskamp.
---