It was broad daylight when the silence of a village in Dire Dawa, Ethiopia, was broken by the screaming of women, crying for help to save a mother's life. The woman was attacked by her own neighbor with a piece of iron, over a dispute about a man.
For these women, whose livelihood depends on the income they make as prostitutes, this kind of conflict is nothing new. But that day it ended with one women dying and the other going to jail for life.
In the middle of it all, a 6-year-old girl along with her three siblings lost her mother. Yordanos was left with no one to care for her; orphaned, as she knew nothing about her father.
Immediately after her mother's death, when her sisters went to the streets, Yordanos was taken in by an old lady in the neighborhood. For the young mind of Yordanos, it was difficult to grasp why her life suddenly turned upside down. It was something she never fully understood.
However, when the old lady whom she started calling grandmother began to care for her as one on her own children, Yordanos gradually came out of her shell.
A few years passed with Yordanos pursuing her elementary education and grew into a beautiful teenager. Life was good under the care of her new grandmother, until her grandmother's son, who ran their motel business, died suddenly. One day, when Yordanos came back from school, her grandmother gave her an order to run the motel after school.
Yordanos's new task involved collecting money from customers who rent a room for the night, staying up until midnight to lock up, and calculating the day's earning. Yordanos, at an age where she should be spending more time with her friends studying and playing, became exposed to a life which no child should ever be exposed to. Most of the customers were the local prostitutes and their clients.
"I used to rent rooms for all kinds of people: people who were drunk, people who were drugged and old people who came to cheat on their wives. I used to see my friends play, and I envied them.

"Forget my schooling; it was hopeless as I had no time to study. Moreover, my grandmother started mistreating me. She would beat me if I refused to wait on customers for one night.

"Because I used to work without eating, I started to steal from my grandmother."
Destu was born from a father who spent most of his life in and out of prison and from a mother whose livelihood depended on prostitution. Destu and her little brother grew up witnessing violence between their parents when their father was out of prison.
In addition, the daily misery of poverty was unbearable. Their mother's meager income was mostly spent on "Chat" — a local herb with a drugging effect.
"I know little about my father because he spent most of his life in prison. The few times I have seen him I remember him not as a good father who is interested in his children but as a person who abused our mother. You know, my mother, even though she has her own shortcomings, cared so much for us. She loved us and protected us from so many things."
The dreadful life Destu and her brother led became more painful when their mother was diagnosed with AIDS.
"I never expected that to happen. I guess I was too young to expect it. My mother was a good person and didn't deserve this, but it happened. Shortly after my mother was diagnosed with AIDS, our father also went and checked his status. He was also found HIV-positive."
Destu and her brother lost their parents and were left under the care of their aunt, who was also a prostitute. Destu assumed the responsibility of raising her brother and managing the house since their aunt was never at home to care for them. Destu was burdened by too many responsibilities that were putting pressure on her education.
"I was unable to study with an empty stomach. I had to care for my little brother, which involved finding ways to feed him. It was all too much for me."
Four years ago, Compassion began a pilot program called Highly Vulnerable Children (HVC) in Ethiopia in hopes of giving a loving home to children like Destu and Yordanos so that they could grow up and realize their dreams. About 35 children are now receiving family care and support in the six cottages established through the program.
These children are given love and care from their foster parents, and traumatized children receive counseling as well. Their basic needs are fulfilled, and their foster parents also follow up with their education and spiritual life.
The Dire Dawa Vision Cottage is one of the cottages that support nine children who needed immediate intervention. Mr. Girma and his wife, Mrs. Etifwork, have two children of their own. They have lived most of their lives in Dire Dawa town. Their exemplary Christian life and their heart for orphaned children were the reasons the church approached them with the offer for the opportunity to be foster parents to these children.
"God has given me and my wife a calling which is to help the fatherless. When the church came to us with this offer, we didn't hesitate to take these children in. Of course, we prayed about it but we knew that this was God's calling for us."
Yordanos and Destu are among the nine children taken in by Mr. Girma's family who have shown significant change in their holistic development.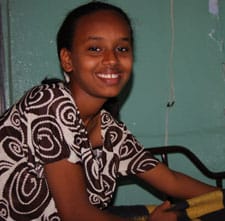 After Yordanos started living with her foster parents, she finally had the chance to grow like a child. She played with her peers and began to pay attention in school. The child who was always failing in her grades became a rank student within a year. She accepted Jesus and put her past, which influenced her behavior, behind her.
Today, Yordanos is a different person. She is a devoted Christian and a great student with a clear purpose for her life.
"God gave me this family because He loved me and wanted to use me for His glory. Had it not been for the HVC program, I would have ended up like my sisters — in the streets with illegitimate children. Now I can be whatever I want to be and I am determined to make my dream of becoming a medical doctor a reality with the help of God."
As for Destu, life took a total turn for the better and her constant worry about taking care of her brother was put to rest when she joined the foster family along with her brother. She immediately began to excel in school with the close follow-up of her foster parents. Her grief was gradually replaced with happiness as their caregivers gave her the love and attention she lacked.
"I was emotionally scarred and was very afraid of my future as well as my brother's future. I was sure that we would be thrown in the streets when my aunt who was also HIV-positive dies. No one really cared about us. It's a miracle that I'm even in this kind of environment where people give me love and attention. I feel so emotional because I have been telling myself that I don't mean anything to anyone. But that's different now. Thanks to Compassion, I have found people who care about what I eat, what I wear, where I go, what I would be when I grow up, and they support me."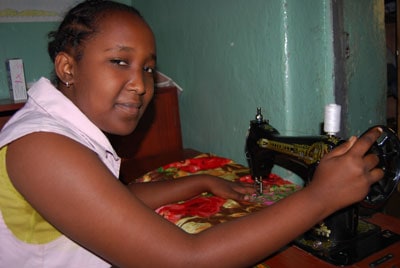 Each child's who lives at the cottage has a different story, but they all have something in common: They were neglected and abandoned with no one to care for them. But now, life is bright and full of hope for great opportunities that await them.
---
We acknowledge that all children in our programs are vulnerable and face a certain degree of risk, but some registered children face much greater risks than others.
Thus, the "highly vulnerable children" in our programs are the registered children who are at greatest risk of physical, psychological or social harm relative to the other registered children in the program.
Read more about how we help highly vulnerable children. Make a donation to help highly vulnerable children.