Picture something with me. In your mind's eye, in front of you is a house on fire and a person shouting from the top floor of the house that he's trapped and can't get out.
Scary and intense, yes? Stay with me.
Now to your right you see a firefighter with all of his gear, ready to run into the inferno. He has extensive training, and this is the moment he was made for. The person in danger knows the firefighter can see him and hear him, and he continues to shout for help.
Then the firefighter does something unexpected. He stands outside the door of the house and yells.
"Come on out here where there is no fire! I can see you. Just try your best! I'm not sure I want to go in there. It looks dangerous, and I don't know how it will turn out in the end. What if you don't appreciate it? What if I get hurt?"
Despite all his knowledge, training and skills, the firefighter has questions that need answers before he will consider helping the person in danger. Stunning!
I have never known a firefighter who would not run into the building. They are willing to risk all they have to save the lives of people in danger who can't save themselves.
Does that sound like the Father God we know?
As a singer/songwriter/worship leader who has had the honor of serving as an artist with Compassion for the past 14 years, my attitude and desire to help children in need has become more passionate than I ever thought it would be.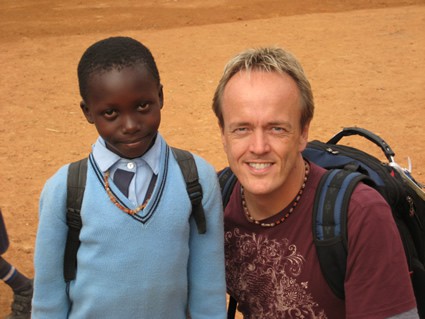 When I began writing for my CD RESCUE, I became challenged and moved by the word itself.
Rescue by definition means "to free or deliver from confinement, violence, danger or evil."
The obvious part for a believer is that's what God did for us in Jesus Christ. He knew He couldn't just say, "Come on over here where there is no sin. Try your best!" He knew the answer was to send His son Jesus into our world, our burning building, and rescue us from the "danger, violence and evil" of our sin.
Praise be to our Abba Father God for this!
Sponsoring a child in Jesus' name is more than just a good deed and nice thing. These children are in burning buildings called poverty.
They truly cannot get themselves out of the danger. They are children. Yes, just children who are crying out for rescue to anyone who can hear, because they can't do it alone.
I wrote the song "Come To The Rescue" with my friends Bob Stromberg and Paul Marino. I honestly found myself with a heart pain that was saying "enough is enough" when I brought the idea to Bob and Paul. Helping a child in poverty, who may be hurting, orphaned, or even abused isn't merely a thing to be considered or thought about.
Poverty is the fire and we are the firefighters.
God has given us the Kingdom, and when we run into the burning house, we bring a hope and love like no other, because of Jesus Christ in us, through us and with us. We need not be afraid because the Holy Spirit is not afraid.
Please come to the rescue, my friends. Help others see the "firefighter" God has called each of us to be!
---
ABOUT THE AUTHOR Peder Eide is a traveling singer/songwriter, worship leader, speaker, husband, and daddy to five. He's partnered with Compassion for 15 years.
Proceeds from any sale of Peder's new CD RESCUE made from his website are being donated to our Highly Vulnerable Children Fund. Purchase a copy of RESCUE now.