The 2014 World Cup. Thirty-two teams. Twelve stadiums. Sixty-four soccer matches. Thirty-one days.
As far as sporting events go, it's one of the biggest, with 10 percent of the world's population watching. That's more than 715 million people tuned in! It's a global case of World Cup Fever!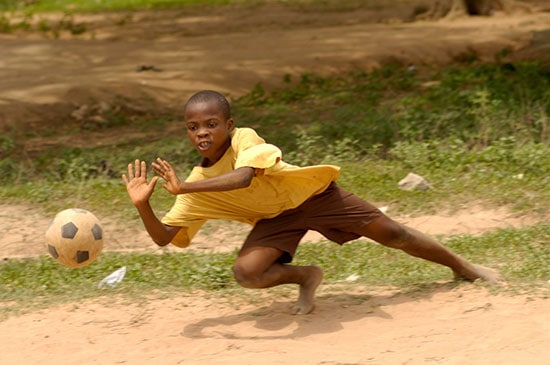 But you may be wondering … what does World Cup Fever have to do with you?
With your help, Compassion works to release children from poverty in six of the competing countries, including Ghana, Colombia, Mexico, Honduras, Ecuador, and this year's host country, Brazil.
But for Compassion children, soccer (or "football") is more than just a game. If you were to visit a Compassion child development center anywhere in the world, you would see a game in action!
Playing football is more than kicking a ball around. It teaches core values such as cooperation and respect and brings communities together. Playing sports like football offers children companionship, support and a sense of belonging. And it will even improve health and reduce the likelihood for disease. Sports boost school enrollment and attendance.
Sports can give children a chance to dream of something bigger than themselves. So this year, when you join in the World Cup Fever, think of the children we serve together. And maybe one day one of those children will wear a jersey and run onto the field.
And we can watch as his dreams come true.
Here are six ways you can pray for your sponsor child and other children in poverty during this month of World Cup Fever!