The theme for World Malaria Day 2009 is "Count Malaria Out."
"This year's World Malaria Day marks a critical moment in time. The international malaria community has merely two years to meet the 2010 targets of delivering effective and affordable protection and treatment to all people at risk of malaria, as called for by the UN Secretary-General, Ban Ki-Moon."

– www.rollbackmalaria.org
You can help "Count Malaria Out" through our Bite Back Campaign.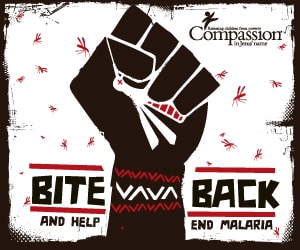 Malaria begins with a bite. We believe that we can end malaria by taking a bigger bite.
Your $10 bite will purchase a bed net for a child, and that bed net can protect the child for three years.
Donate a net.

Visit the Bite Back Web site to learn more.
---
Jeff Foxworthy's 14-year-old daughter, Jordan, is taking a bite. A huge bite. She has helped raise more than half a million dollars for Bite Back.
Oh yeah! The answer to yesterday's malaria question is false.
Although malaria is an easily preventable disease, because of increasing drug resistance and struggling health-care systems, malaria infections in Africa have actually increased during the last three decades.
(Source: malarianomore.org, November 2008)