Most of us don't feel like we can really change the world. Sure, we know that we can make an impact on our community and family, but change the world? That sounds a little too lofty and difficult for us average Joes. Most of us don't have the money to start a school in Africa or donate billions to AIDS relief, but that isn't the goal is it?
I believe that changing the world starts with us and what we're able to do within our means. I believe that God calls us to do what we can with what He has given us. For me, this message was really driven home when I traveled overseas with Compassion.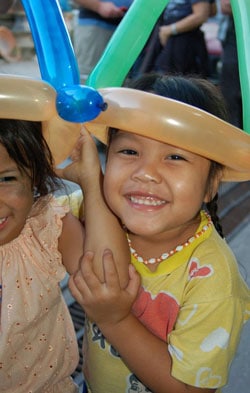 To meet my sponsor child "Phone," I had to walk into a dark, wet, rat-infested squatters community. It was off the grid because someone else owned the land, and at any moment the police could force these families out onto the streets.
There were no mailboxes or house numbers, let alone a blade of grass. Instead, these homes were shacks on stilts made up of scrap metal, wood and even old bar signs. If a family had electricity, it was most likely "borrowed" from a neighboring home.
To reach Phone's home, we had to know where the hidden entrance was and what restaurant it was behind. You and I would never let our children get near such a place, yet for these people this was home. It was in these miserable conditions that I saw how I am changing the world.
What God showed me is that changing the world starts with changing the life of one child. When I sponsor a child and you sponsor a child and our friends sponsor children, we make a difference throughout the community.
Children that had no hope, now have hope and an education. Families that had no hope, end up hearing about Jesus. Finding that hope in Jesus is key to change. Hope in Jesus is the lifeblood of changing our world and it has to begin with us.
Sponsoring a child is a journey of hope, change and relationships.
---
ABOUT THE AUTHOR: Melissa Moore is the host of The Melissa Moore Show, heard daily on almost 100 radio stations, including WAY-FM. She describes her radio show as a mix of great Christian music with real-life conversation. Melissa lives in Nashville with her husband, Bill, daughter, Aleksandra, and Hoover — the greatest dog ever.