Amenorpe Korsi Fume is a volunteer teacher at the Faith Baptist Community Church Child Development Center at Madina, a suburb of Accra, Ghana. Korsi Fume teaches the 12-year-olds at the center and is also responsible for leading prayer and devotion time. He sees children's sponsors as special people without whom the center cannot realize its vision.
For this reason, "Teacher Fume" (as he is commonly called among the children) never forgets to have the children pray for every sponsor any time the children meet collectively as a center to pray. Praying for you has never been missing from their prayer topics.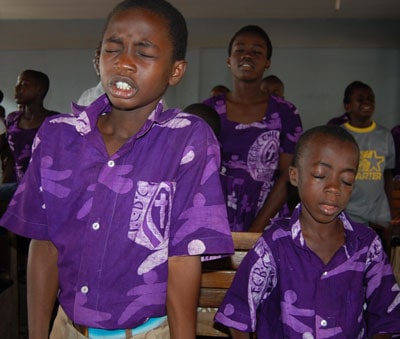 "We have made these children aware that they would not have the opportunity they now have if they had not been sponsored. So they have to be thankful to God and lift their sponsor up in prayer every day and night. They pray for their sponsors every time they are at the center. I speak with them and they tell me they pray even when they are not at the center."
Many of the children confirm this.
Voicelord, who is sponsored by Katrina, thanks God every morning for giving Katrina to him as a sponsor. He also tells God to protect her and let her work prosper so that she will earn more money.
Emmanuel has a couple as his sponsors, and when he prays he does not forget to pray for them.
"Lord God, thank you for everything. Thank you for Jesus; thank you for Compassion all over the world; thank you for all sponsors, especially my own sponsors — Kyle and Danielle.

"Thank you God for making them choose me. Please Father, bless them and all that they do; bless their families and everybody they love.

"God, there are some of my friends who do not have a sponsor; please Father, touch the hearts of other people to come and sponsor those who do not have anyone to support them.

"Father, I know that you would do this for me. Thank you. In Jesus' name I pray, Amen!"
Grace's sponsor is a student named Morgan. Grace prays for Morgan.
"My heavenly Father, I thank you for this day. I thank you for giving me such a sponsor; please God guide her in everything she does. Help her in her studies at school so that everything she studies, everything will stick in her mind. Let her remember everything she learns so that she can do well in all examinations.

"Father God, take care of her and give her long life. Give her a good job so that she will prosper. Please God, bless her family and her friends and make her happy all the time. Amen!"
Emmanuella is 12 years old and in grade six at school. Her sponsor's name is Karen. Emmanuella knows a lot about her sponsor because they communicate a lot and ask each other many questions. Emmanuella prays:
"My Lord and Master Savior, thank you for giving me Karen. Heavenly Father, I thank you for my sponsor's life. I thank you for her family. I thank you for everything she has been doing for me. Heavenly Father, I want you to give her long life. Bless her family; bless her business and everything she does. In Jesus' name I pray. Amen!"
Sandra is 12 years old. She prays for her sponsor Kami and Kami's husband.
"My Lord and Savior, thank you for the life of my sponsors. Thank you for the life of her family and the life of every member of her family. I pray that you bless her and help her in everything she does. Make her prosper; help her in her work; help her husband and everybody. Please God, give her long life and prosperity; everything she touches should be blessed. Let your blessing be upon them all the time. Amen!"
Okoe and Akwetey are twins. Their sponsors are Daralyn and Gayle, respectively. The twins and their family are very appreciative to God for their sponsors. Okoe's sponsor sent him a family gift, which helped to boost the mother's kenkey-making business and changed the family's life.
Kenkey is a typical Ghanaian dish eaten mostly by the people from Accra (Gas) and the Central Region (Fante). Kenkey is made from fermented corn dough. The twins' mother used to buy the corn on credit and in small quantites.
The gift money the family received was invested into the business. Now the twins' mother is able to buy a whole 50 kilo bag of corn outright. So the small, one-person business has expanded. She now has two people to help her, and she produces more kenkey and makes a better profit.
Before the gift money came, the family was living mainly on the profits from the kenkey the mother was selling. They could not think of providing a different dish for themselves to eat because the money was not there. But now because the twins' mother makes a better profit, she is able to cook rice and stew or some yams or plantains.
For this family, the sponsors are much appreciated. The mother says,
"It is my prayer that any of my children's sponsors should just get the means to visit Ghana so that I will get the opportunity to hail them and show them how much love I have in my heart for them. The children have been writing to them, but I do not feel that letters alone can say well how we appreciate them. I am praying to God to grant us physical meeting one day."
The father of the house is almost always not at home, so the mother sometimes joins the twins in prayer generally, with praying for the two sponsors being part of the main prayer topics.
Okoe's prayer for Daralyn is:
"Lord, I thank you for my sponsor. Take care of her health so that  she will be healthy all the time. Please God do not make her sick; let her work prosper.

"Dear Jesus, let her know that I love her very much. Make her love me too. Lord, I know that you will one day make her to come to Ghana to visit me. Bless her, bless her family and bless her country. Amen!"
These are just some of the prayers that are said in Ghana for you as sponsors. Compassion would not be Compassion without you. The children would not have the lives they have without your response to Jesus. We in Ghana appreciate you and pray that your relationship with us will be a lifelong one. Amen!