Letters are not just pieces of paper. They carry a connection — a relationship — and love from sponsors to registered children. Letters are powerful tools. The prayers, encouragement and affection they contain can change a life. But a lot of work has to occur to get the letters on their way.
Every week the Thailand country office receives approximately 1,000 letters from sponsors. Seven Sponsor and Donor Services (SDS) staff members check in the letters, cards and photos. Then, they send the letters to be translated by contracted translators.
Most of the translators have full-time jobs, such as working as teachers or office employees, while some are retired. There are 20 translators who translate from English to Thai.
The selection criteria for translators in the Thailand office is that translators have to be Christian, attend church regularly, have English skills and have a commitment to serve the Lord in ministry. They must also pass a skill test.
Potential translators receive four letters to translate from English into Thai and Thai into English. When they finish translating the letters, a staff member proofreads the letters, checking meaning accuracy, grammar and vocabulary.
After the translators pass the test, they have an orientation introducing them to our ministry and helping them understand our technical terms.
Generally, each translator receives at least 50 letters and the translators have seven days to finish the work. The translators are not only translating the letters, but also checking on the gifts mentioned in the letters.
The translators write on the cover sheet what the gifts are, and how many. They also write down the questions you ask to ensure that the children will not miss any questions when they reply.
Once the translated letters arrive in the office, staff members randomly check letter quality by each translator. The staff then sort letters by child development center number once a month by scanning the letters into a computer data system. Then thousands of letters are ready to be sent to the children all over Thailand.
In Thailand, when the letters are in the hands of your children, they have 20 days to write back telling about their lives, school or what they learn at the center. Some children draw or paint pictures on the backs of the letters.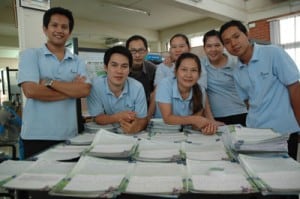 Then these letters are sent from the centers to the office. At this stage, 40 translators jump into the process of translating from Thai to English.
"The translation process is very important. Translators are the persons who are in the middle between child and sponsor," explains Ampika Wongkaew, SDS Supervisor.
Chuwit Wutthikarn is a distinguished translator. He was a vice dean and professor at Payap University in Chiang Mai. He began to serve God with Compassion in 2006 after he retired, and now he is 70 years old. Chuwit receives only 30 letters per week but every letter is filled with quality.
"I take night time to translate, and I can do seven or eight letters. I spend at least 30 minutes to translate one letter. Every letter I write by hand because I think handwriting is more valuable and it creates a human touch between sponsors and children.

"Translating for me is not just a translation. I see myself as a matchmaker who will make both sponsors and children love each other."
Chuwit spends hours searching for difficult words, such as medical, traditional or cultural terms. He even makes phone calls to specialists for advice. For cultural differences, it is a challenge for Chuwit to find the words that best explain the meaning in English. He wants to ensure that sponsors who live across the world understand the Thai context correctly.
On the last day before Chuwit brings letters back to the office, he reads through the translations at least five or six times. He will do everything to ensure that the translated letters carry the meaning and feeling the children want to express to their sponsors.
"My concern about child letters is I don't understand what the children meant to say. They write confused sentences."
Warunee Klinsukon is another translator who faces the same problem.
"There are some letters where the child's handwriting is difficult to read. Also there are some words I cannot find in the dictionary. I have to take hours to find the closest meaning in various sources."
Warunee was a former Compassion staff member who worked in Sponsor and Donor Services, and now she is a freelancer. She is in her 30s and has been helping translate with Compassion for six years. She translates 60 to 70 letters each week and uses both handwriting and typing. She spends 30 minutes for writing and 15 minutes for typing, but printing out the letters takes more time.
She has to be careful before printing them, making sure that the letters are in the same order as she set the translation on her computer. Another concern is page setting. The printer must not print over the child's handwriting, and she has to make sure that the translation is in the provided box.
"I haven't thought about stopping translating letters. There is a time I am tired, but I still have fun with the letters. I often see myself becoming emotional while reading and translating child letters. They bring a smile on my face and sometimes I am sad and even cry.

"A letter is a relationship between child, sponsor, translator, Compassion and God. God is the one who makes children get sponsored and have a chance to write letters to sponsors. I am happy to be a part of this ministry."
The major errors that are found in translation are incorrect gender pronouns, printing wrong letters caused by technical problems, interpreting wrong meanings or not translating word by word, but shortening some messages, which translators think seem less important.
When the translators return the translated letters back to the office, staff check the quality of the translation and give feedback to translators for future improvement on translation.
Every Friday afternoon, about 2,500 letters travel to Compassion's Global Ministry Center in Colorado, on their way to the mail boxes of Compassion sponsors.