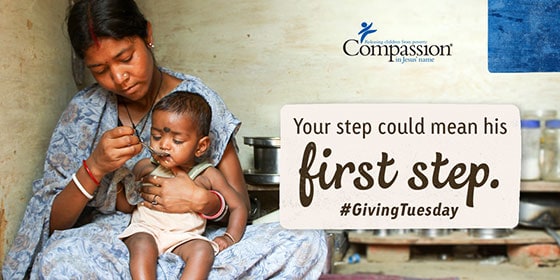 When I was a teenager, my mom and I used to go shopping on Black Friday. Well … she would shop. I would usually end up sprawled on the sidewalk in front of the mall, reading a book and waiting for her to finish buying gifts for our family.
It should be noted, though, that my mom didn't necessarily enjoy these dawn excursions with a whiny teen. She did it because she loved us, and she wanted Christmas to be special. Our family wasn't wealthy, and she saved all year to buy those gifts — to demonstrate in a tangible way that she knew us, knew what we liked. And that she loved us.
And even the malls couldn't interfere with that mother's heart.
In a lot of ways, Giving Tuesday feels a long way from a crowded mall on Black Friday. Yet, it is my mom, and the many sacrifices she made during my childhood, who I think of as I prepare for this year's Giving Tuesday event. It's a day to focus on giving rather than receiving. And to me, nothing embodies that like mothers.
Which is why we want to focus our Giving Tuesday efforts this year on funding a Child Survival Program in a small community in Gujarat, India.
(more…)