Ever feel that your sponsorship doesn't matter? That your letters don't make a difference? That you don't make a difference?

One of the lies of poverty is that "You don't matter." But that lie is not limited to those in poverty. What would have happened – or rather, what might not have happened – had Fred and Sherrie chosen to believe they didn't matter? Who would have imagined the ripple effects from their sponsorship of Mark, a young Kenyan? Thankfully, Fred and Sherrie believed transformation is possible for a little more than a dollar a day.

Mark Okello never knew his parents. He lost them both when he was only 7 weeks old and was raised by his faithful and loving grandmother. But money was always tight. His crawling and walking were even delayed due to malnourishment.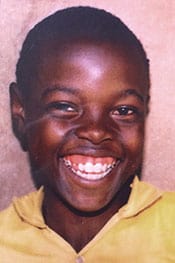 At age 9, Mark was registered in the Compassion Child Sponsorship Program. For the first time in his life, he received food regularly.
"God saw me through. Every Saturday, I saved the maize and beans I received at the child development center to last me for several days. Because we were so poor, Compassion bought us a goat as a source of income and milk. They also provided me with a lantern lamp and desk."
As a Compassion-assisted child, Mark was also able to go to school regularly. For the first time in his life, he had books and a school uniform.
(more…)