Mahalakshmi is a tall young woman with a charming smile that instantly draws people to her. She is in the seventh grade and attends India's Ramakrishna Girls Higher Secondary School. She dreams of becoming a doctor.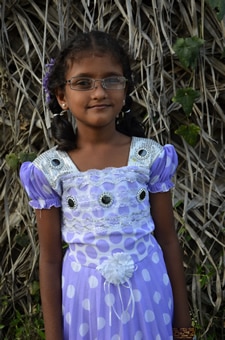 Mahalakshmi is extremely talented – an excellent singer, artist and a good narrator of stories.
However, hers is a sad story.
Mahalakshmi sees through only one eye – her right one. Her mother, Geetha, shared her daughter's story with us.
Born into a life of poverty and misery, Geetha and her husband, Palani, could barely provide for their only son, Giopinath.
They lived near the government hospital and in those days that area was considered scary. The people who lived there believed there was a presence of evil spirits because dead children are buried there.
One dark morning, Palani was getting ready for work. All of the sudden, he heard cries and a scream.
A newborn baby was thrown and left to die amidst thorns, in hunger and neglect. A large crowd had gathered.
With sympathy and sorrow, everyone looked at the sight, even as the baby girl was being bitten by ants.
The baby's left eye had apparently been eaten by a pig, and she was found in a pool of blood.
Palani and Geetha could no longer endure the misery. They swore to give a new beginning, a new life, to this baby.
They brought her home and were good Samaritans to her. They wiped her, applied ointment and took her to the hospital for treatment. They named the baby Mahalakshmi and Gopinath began loving his new-found sister.
The abject poverty this family lived in did not allow Geetha to purchase even milk for the baby.
"I added sugar to water and gave that to Mahalakshmi instead of milk. I remember the times we didn't have enough to eat. We often only ate only one meal in the evening.

"Sometimes we would pour water into leftover rice from our evening meal and keep it until the next evening so we could have rice gruel. And there were times we went without a meal for two days in a row."
Palani had no proper job so they struggled to make ends meet. Life was full of hardships and disappointments. And now they had another huge responsibility — to look after Mahalakshmi, the newest addition to their family.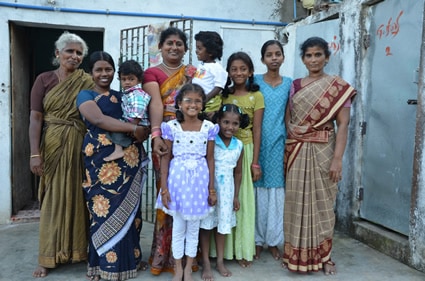 Then Geetha came to know about the Child Sponsorship Program through another parent. When Mahalakshmi's situation was explained, she was enrolled in the Child Survival Program. At that time, Mahalakshmi was two years old.
Staff at the Child Survival Program showered great love upon the family, who received a new hope for tomorrow.
They now receive fresh vegetables, milk and meat, as well as hygiene supplies such as soap, oil and powder. They also receive other items like blankets, mosquito nets, beds and mats.
And when everything seemed to be going well, something unexpected happened — Palani deserted the family. Geetha shares with us,
"We were shattered and our hearts were broken. I had several questions in my mind –how can we live without him and how can I take care of my children?"
It was the Child Survival Program staff who comforted Geetha and her children and encouraged them to live.
Geetha began to work to meet the needs of the family. However, she found it incredibly difficult to look after her two children with her meager income. They did not have enough to eat or proper clothes to wear.
"I thank God for Compassion. They have taught me to surrender everything in the hands of the Almighty God. Compassion is supporting us and we are living peacefully today.

"Furthermore, because Mahalakshmi is in the program, I have no worries about her at all, be it food, clothing or her education and her future."
When she was old enough Mahalakshmi transferred from the Child Survival Program to the Child Sponsorship Program.
Today, she is a picture of joy and delight. She respects elders, helps everyone in need, helps her mother with household work, and is lovable and active.
Mahalakshmi is also extremely talented. She is good at singing and drawing. She prays and is disciplined. And during a speech competition, she spoke about child labor and won first prize.
Mahalakshmi is proud of her mother, Geetha, who pledged to give life to a thrown-away child amidst her own financial crisis and hardships, and who continued her support even after her husband deserted her. She is very sure that otherwise she could never have learned so much, received so many material blessings, or received so much love and care.