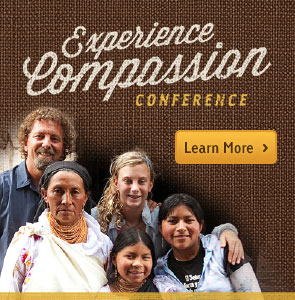 We want to celebrate your partnership with us! Because of your child sponsorship and all the many ways you advocate on behalf of children living in poverty, we want to gather together to encourage and equip you with deeper ways to engage in your own ministry releasing children from poverty.
Our national Experience Compassion Conference is being held in Colorado Springs on June 27-28, 2014.
Meet sponsor alumni from India, SATISH KUMAR, engage in worship led by the ROBBIE SEAY BAND, hear from powerful speakers such as BRUCE WYDICK, DR. SCOTT TODD and Compassion International's President and CEO, SANTIAGO "JIMMY" MELLADO.
Come visit beautiful Colorado Springs and connect with other advocates and Compassion staff, or just come to learn more about what we do – you, your family and friends are welcome!
We know it will be another wonderful time of worship and inspiration. But don't take our word for it, here's how a few previous attendees felt:
"Learning more about Compassion…its vision, successes, and the magnitude of its work. It gave me so much confidence to speak up for this ministry."

"My granddaughter and I are new to Compassion and this event helped us get a much better understanding of what Compassion's mission is and how it is fulfilled. It helped my granddaughter learn what a sponsored child's life is like and why sponsorship is so important…especially the letter writing."

"I love to gather with other like-minded people who have the same goals and passions for helping children in poverty. We need to have our spirits and passion rejuvenated from time to time, because there seems to be some negativity out there in the world. Being able to gather with so many positive and joyful souls to share stories and techniques was great!"
 Registration Still Open!
Have you attended the Experience Compassion Conference? What impact did it leave on you? First time attendee? What are you looking forward to the most? Leave a comment below!